Europe
Italians protest same-sex unions, gay adoption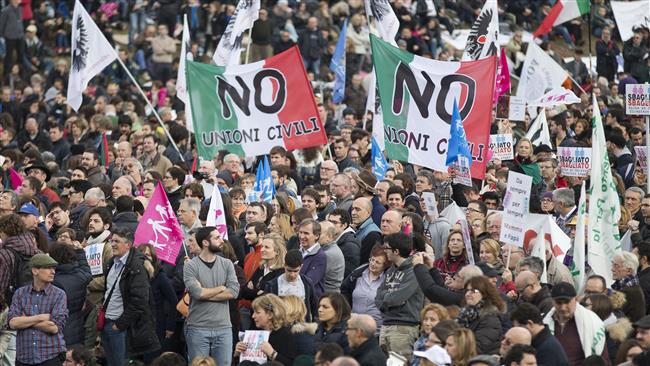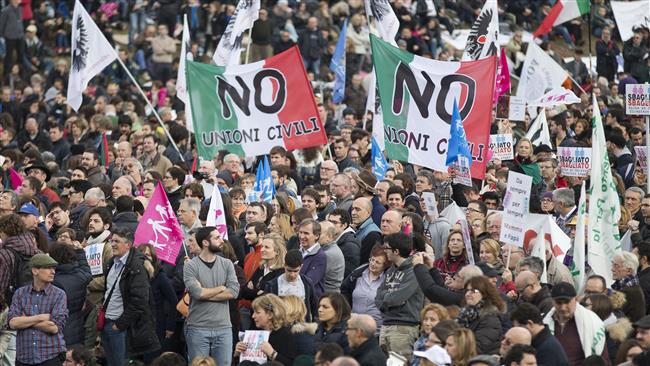 Tens of thousands of Italians held a massive rally in the capital city of Rome Saturday to express opposition to a bill that would give legal recognition and limited adoption rights to same-sex couples.
The protesters gathered in Rome's ancient Circus Maximus to call on the government to abandon the controversial legislation.
People from across the country came to Rome by bus and train to take part in the event.
"We want the whole law to be withdrawn, no ifs and no buts," said Simone Pillon one of the organizers of the rally, adding, "We cannot let children pay for the desires or caprices of adults. Children need to have a father and a mother."
Massimo Gandolfini, another organizer of the protest, also denounced the bill as "deviation" which Italy "is still resisting."
The bill was taken to parliament earlier in January and lawmakers are to vote on it in February. However, there is opposition against the much-contested legislation from within the government, with opponents hoping to be able to sink it as before.
Italy is still not offering rights or recognition to same-sex couples. Prime Minister Matteo Renzi pledged to pass a law by the end of 2015 but has faced fiercer opposition over the move.
Saturday's demonstration was attended by several government officials, including Environment Minister Gian Luca Galletti. "My values are not negotiable," he said.
Last week, Pope Francis once again voiced church's opposition to gay marriage and said the traditional family is "the family God wants."
"I am a grandfather and this law goes against God and goes against the bible," said Franco Pantuso, 71, a retiree.