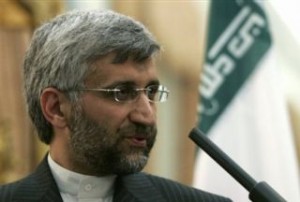 Iran's Secretary of Supreme National Security Council reports to the country's lawmakers about a new nuclear declaration on a fuel swap with the West.
Saeed Jalili on Tuesday attended the parliament (Majlis) session, where he gave a report and answered questions on the latest developments regarding the Iranian nuclear issue, including the recent declaration.
According to Jalili, Iran's foreign policy is based on securing national interests through logic and determination.
He further pointed out that Iran's active role in the international arena has been a key factor in defending its nuclear rights.
Jalili also stated that the new declaration on the fuel swap with the West encompasses important issues which could constitute a basis for a final agreement on the swap.
Following the three-way talks between Iran, Turkey and Brazil, Tehran announced a nuclear declaration on Monday whereby it would send some 1,200 kg of its low-enriched uranium to Turkey in exchange for a total of 120 kg of higher enriched uranium.
The declaration came as part of an earlier plan to supply fuel for the Tehran Research Reactor which produces medical isotopes for cancer patients.
The declaration seeks to provide Iran with concrete guarantees over the fuel delivery.
The declaration stipulates that Ankara hold Tehran's low-enriched uranium and return it if Iran does not receive the higher enriched uranium from potential suppliers in a specific time period.
The Islamic Republic says the new nuclear declaration leaves no excuse for the other side to block the fuel swap as it seeks cooperation rather than confrontation.