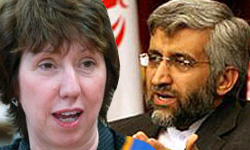 Secretary of Supreme National Security Council Saeed Jalili in a letter to Katherine Ashton, EU foreign policy chief, warned that "the use of illegitimate tools" against Iran will hurt the ongoing talks between Iran and the major powers.
Referring to the logical basis of Iran's proposals to the group, he Jalili said that Iran is ready to play a role in the initiatives which pave the way for successful talks.
"Holding successful talks are possible only within the context of cooperation and winning the Iranian nation's confidence," he added.
Warning the West against use of unconstructive means in the talks, Jalili said that the party which uses illegitimate means will be responsible for any harm to the process of the talks.
The warning by Jalili comes as the EU oil embargo against Iran takes effect on Sunday.
Ashton has been leading the 5+1 group (the five permanent members of the UN Security Council and Germany) in nuclear talks with Iran.
Jalili's letter to Ashton came nine days after Iran and the major powers held talks in Moscow.