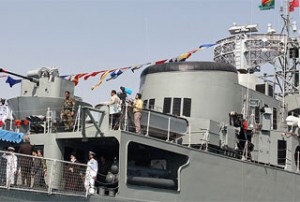 An advanced Jamaran destroyer domestically manufactured by the Islamic Republic of Iran docked in southwestern Iranian port city of Bandar Bushehr.
It is the greatest and first indigenously designed and developed guided missile destroyer in the country which was launched at the order of the Imam Sayyed Ali Khamenei in late February.
Manufacturing of the destroyer is one of the most complicated technologies in the world and the Islamic Republic of Iran is among the seven countries which have the capability to make the destroyer.
Jamaran destroyer is equipped with the most powerful sea missile codenamed 'yakhont SS N 26' which could destroy a giant warship.
The vessel is also equipped with modern radars and electronic warfare capabilities as well as a variety of anti-ship, surface-to-surface and surface-to-air missiles.