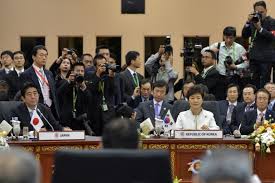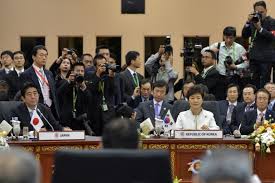 Tokyo Wednesday hailed the first summit between Japanese Prime Minister Shinzo Abe and South Korean President Park Geun-Hye as a chance for the leaders to build a rapport after more than a year of backbiting.
The talks in The Hague were hosted by US President Barack Obama, whose administration is increasingly frustrated by incessant sniping between its two major Asian allies.
"It seemed that she did not have a good impression of the prime minister, so I think she was able to get a glimpse of his real personality," Chief Cabinet Secretary Yoshihide Suga told reporters.
South Korean media said Park appeared unimpressed by Abe's attempts to speak Korean during a photo opportunity before the meeting, reporting that her reply was to stare ahead, "stony-faced".
Seoul has yet to make an official statement about the meeting itself.
The three-way meeting, held on the sidelines of a nuclear security summit in the Netherlands, was followed within hours by nuclear-armed North Korea's test-firing of two ballistic missiles, underscoring tensions in northeast Asia.
Relations between Tokyo and Seoul are at their worst in years, mired in emotive disputes linked to Japan's 1910-45 colonial rule, particularly Japan's use of South Korean "comfort women" as sex slaves in wartime brothels.
Although not a one-on-one encounter, the talks are a significant step forward and mark a departure from Park's oft-repeated stance that there could be no summit with Abe until Tokyo demonstrates sincere repentance for "past wrongdoings".
Despite not being known for his skill in languages, Abe kicked off the greeting in Korean, saying: "President Park, it's nice to meet you".
Quizzed about Park's apparently bloodless response, Suga side-stepped the issue, saying he did not know how she reacted immediately, "but finally they shook hands, that was good", he said.
"Japan and South Korea both value freedom and democracy and are important neighbors….It's extremely important for both countries and for the security of East Asia as a whole that we establish a future-oriented relationship," he added.
Ties frayed in 2012 when a dispute erupted over the ownership of a pair of sparsely inhabited islets in the Japan Sea, which Koreans call the East Sea, and went downhill with the election of the hawkish Abe later that year.
Park's election in early 2013 marked a further hardening of the rhetoric, which was exacerbated by Abe's tendency to flirt with historical revisionism.
Recent surveys in South Korea have shown that the Japanese leader is even more unpopular with South Koreans than North Korean supremo Kim Jong-Un.