North America
Asia-Pacific
Japan, US hold first-ever joint naval drill in South China Sea
Japan and the United States have conducted naval drills in the South China Sea, as part of their first-ever anti-submarine war games in the territorial waters.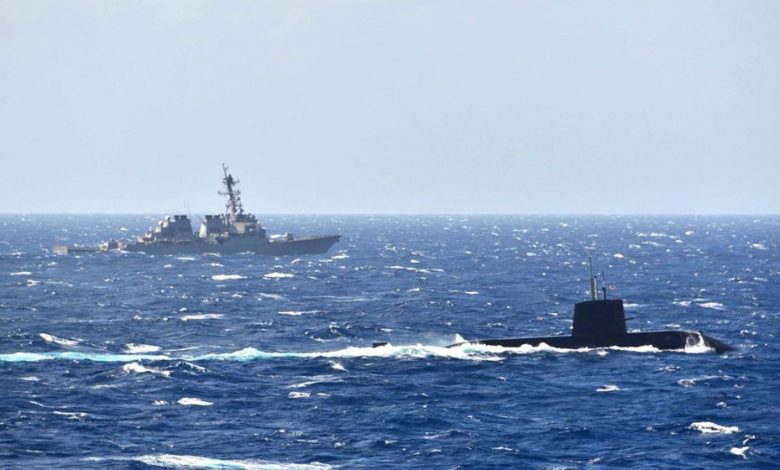 The Japan Maritime Self-Defense Force (MSDF) said in a statement on Tuesday that a total of four Japanese and US vessels had taken part in the drills, including helicopter carrier JS Kaga and two patrol aircraft.
The naval exercise, which kicked off on Monday, also involved the US navy destroyer USS Milius and a US navy P-8A maritime patrol aircraft.
They used an MSDF submarine as a target during the exercise.
"This is the first time [Japan and the United States] have conducted antisubmarine drills in the South China Sea," MSDF Chief of Staff Hiroshi Yamamura said at a press conference on Tuesday.
"The fact that we can conduct drills in any sea area shows the high level of interoperability between Japan and the United States," he added.
The MSDF said in a news release that a bilateral naval exercise between Japan and the US navy would take place in the waters around Japan from Nov. 21 to 30. A total of 20 MSDF ships and 40 MSDF aircraft, 10 US navy ships, and a single German navy ship will take part in those drills, it said.
The drills come after China and Russia held three-day joint naval drills in the Sea of Japan last month, as part of naval cooperation between the two countries.
The exercises involved sea and support vessels from Russia's Pacific Fleet and at least a dozen military aircraft. The two sides have been holding naval drills in the Pacific waters since 2012, when the United States moved to step up military cooperation with its regional allies.
Japan's relations with China have long been plagued by conflicting claims over a group of tiny East China Sea islets. Tokyo is also involved in a territorial dispute with Moscow over the Kuril Islands, located near Hokkaido.
China has vastly upgraded its military infrastructure in recent years, amid rising tensions over Chinese Taipei, the South China Sea, and military supremacy in the Indo-Pacific.