North America
Jordan starts nationwide curfew as virus spreads in Mideast
Jordan has imposed a nationwide curfew in an attempt to fight the spread of the new coronavirus, as the respiratory disease continues to afflict more people around the globe.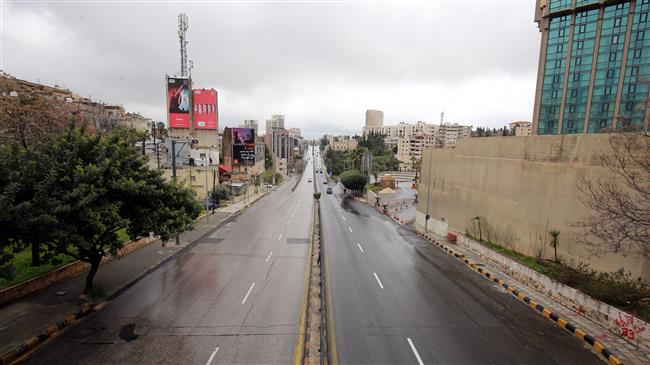 Sirens marked the beginning of the curfew on Saturday, limiting the mobility of 10 million citizens except for emergencies and essential services.
The army has deployed thousands of soldiers on the streets of main cities across Jordan to enforce the curfew.
The army said anyone who violates the curfew can be jailed for up to a year. The nationwide restrictions are in place until further notice.
They came after Jordan's King Abdullah declared a state of emergency earlier this week, giving the government sweeping powers to enforce an army-imposed curfew and other measures.
On Friday, Jordan's Minister of Health Saad Fayez Jaber said the country had 85 confirmed cases of the coronavirus, after 15 new cases were identified.
Coronavirus updates: China reports downfall, Europe sees outbreak rapidly growing China reports an overall drop in its new cases of coronavirus infections, while much of the rest of the world continues to report increasingly more cases.
Jordan has closed land and sea border crossings with Syria, Iraq, Egypt and Israel, suspending all incoming and outgoing flights since Tuesday.
The new coronavirus, a respiratory disease known as COVID-19, emerged in the central Chinese city of Wuhan in Hubei Province late last year.
More than 240,000 people have now been confirmed with the coronavirus globally, at least 85,000 of whom have recovered, while more than 9,800 have died, according to data from Johns Hopkins University.
Turkey reports five more coronavirus deaths
Elsewhere in the Middle East, Turkey has recorded five more deaths from the novel coronavirus, bringing the overall total to nine.
"We have lost five patients who are elderly and with a weak resistance," Turkish Health Minister Fahrettin Koca said on Twitter on Friday.
This is while Turkish President Recep Tayyip Erdogan has urged people not to go out for "non-essential reasons".
In a voice message published on his official Twitter account, Erdogan urged the Turks to follow hygiene rules and implement social distancing, while calling on the faithful to pray at home.
Turkey, which has a population of 83 million, has announced a raft of measures to limit the spread of the virus, including the closure of schools and universities, and shutting mosques to mass gatherings.
Saudi Arabia suspends public transport to curb coronavirus
In response to the COVID-19 pandemic, Saudi's Interior Ministry said that all public transport would be suspended in an effort to contain the spread of the virus.
The kingdom has 274 cases of COVID-19, according to an official toll, and has imposed numerous restrictions intended to limit gatherings.
Coronavirus infections rise in Middle EastSince raising its head in central China late last year, the new coronavirus has come to affect 157 countries and territories.
The rules apply to all internal flights, buses, taxis, trains and ferries "for a period of 14 days beginning Saturday morning," the official SPA news agency reported.
"The suspension will not apply to means of transport linked to vital sectors like health… or food, energy, water and communications, among others."
Cargo and travel are exempt from the new measures for reasons of security.
The neighboring United Arab Emirates, which has recorded 140 cases, has increased restrictions on passenger arrivals.
Only citizens of Persian Gulf countries will be allowed in and will be "required to undergo a medical examination on arrival followed by a 14 day quarantine period," the foreign ministry announced Friday.
So far, more than 1,300 coronavirus cases have been detected in the Persian Gulf region.
Egypt registers 29 new coronavirus cases, 1 new death
Egypt has registered 29 new coronavirus cases, bringing the total to 285.
In a statement, Egypt's Health Ministry said there was one new fatality, bringing the total number of deaths to eight.