General
Jordanians Stage Sit-in Before US Embassy in Amman in Rejection of US-interference in Syria's Affairs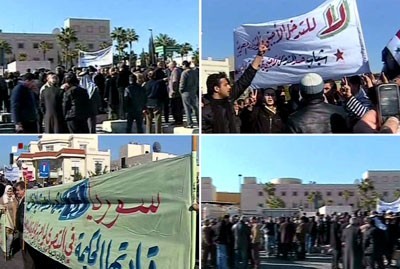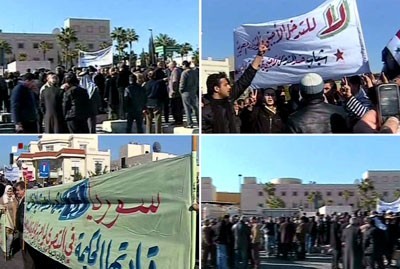 The 'Youths against Foreign Interference in Syria and Arab Countries' Movement on Saturday staged a sit-in in front of the US Embassy in Amman to express rejection of the US-western interference attempts in the Syrian internal affairs.
The participants also expressed their absolute solidarity with the Syrian people in the face of the Arab League decisions.
Mansour Morad, member of the Jordanian Popular Front to Support Syria against the conspiracy, said that the plot aims at fragmenting Syria, liquidation of the Palestinian cause, targeting Jordan and Lebanon and undermining the Arab resistance.
Another member, Ibrahim Alloush, said that the sit-in is staged to express rejection of the attempts aiming at isolating Syria and imposing economic sanctions against it.
Member of 'Jordan's Youths' Gathering, Nour Bouni, said "We, the Jordanian youths, support Syria and the resistance… We will remain loyal soldiers to Syria."

Hassan Abu Ras, member of the Jordanian Popular Front, said "The Arab League is serving the imperialism and Zionism through undermining Syria and the resistance at a time when the AL is ignoring the current siege imposed on Gaza Strip."
Another participant, Ahmad Aziz, said "We stand against the criminal schemes targeting Syria's security and stability. We condemn and denounce the acts of the armed terrorist groups which are backed by the United States and israel."