General
Jordanians Urge End to Peace Treaty with Israel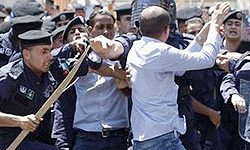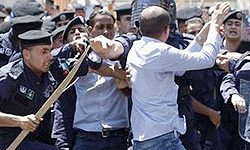 People in Jordan staged massive anti-government and anti-Israel rallies across the country to voice their strong protest at the Amman government's performance in foreign policy, domestic politics and campaign against corruption and to extend their support for the Palestinian people.
During the rallies held in different Jordanian cities, including the capital city of Amman on Friday, protesting people called on the government to respect and meet people's demands, including establishment of a popular government and a parliamentary system of election to represent the Jordanian nation.
The Jordanian people also gathered in front of the UN office in Amman and underscored their support for the creation of an independent Palestinian state.
The demonstrators also condemned the US for pledging to veto the Palestinian statehood bid at the UN Security Council.
A group of demonstrators gathered outside Israel's embassy in Amman and requested an end to Jordan's peace accord with the Zionist regime of Israel.
The demonstrators also demanded expulsion of the Israeli ambassador from their country, severance of ties with Tel Aviv and return of Palestinian refugees to their homeland.
Palestinians stress that they have never gained anything through talks with the Zionist regime, mentioning that negotiation with the racist regime is a waste of time and gives the Zionists the chance to push their settlement construction plans ahead and come along with their international and internal problems.