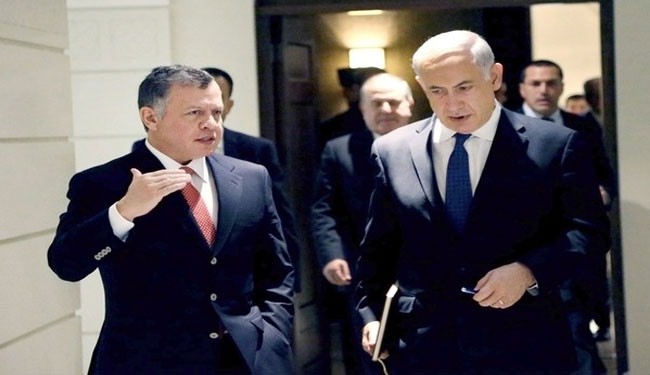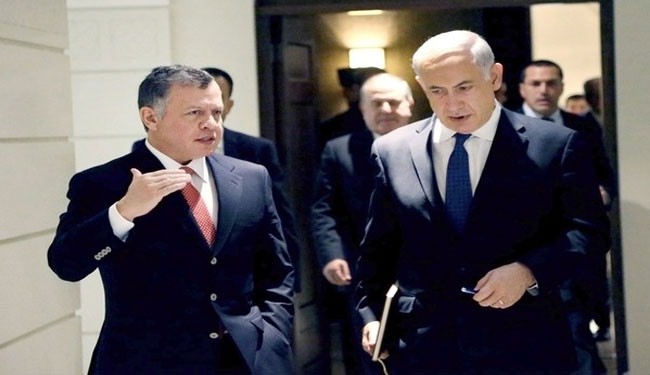 Jordan's King Abdullah II has held talks with the prime minister of the Israeli regime Benjamin Netanyahu in Amman to discuss the US-sponsored talks between Tel Aviv and the Fatah-led Palestinian Authority (PA).
According to a Thursday statement released by the royal palace of the Jordanian king, the two officials discussed the "developments" in the US-backed negotiations.
The meeting with the hawkish Israeli premier followed a similar meeting last week with PA's President Mahmoud Abbas by King Abdullah to discuss the status of the controversial talks that has been censured by many Palestinian circles, particularly the Hamas resistance movement, which maintains that any negotiations with the occupying regime is futile and counter-productive.
According to a report by the Palestinian Ma'an News Agency, the US-backed Jordanian monarch told Abbas at the time that it was "a priority to protect Palestinian national interests, especially regarding a final status agreement."
US Secretary of State John Kerry coaxed the two sides, which receive major funding by the US government, back to the negotiating table last July after a three-year freeze, prompted by repeated Israeli violation of prior agreements and its continued effort to expand its illegal settlements in the occupied Palestinian territories.
The two sides have reportedly agreed to keep talking for nine months.
This is while the Israeli regime has issued plans for thousands of more illegal settlements since the talks began and insists on having a military and civilian presence in the Jordan Valley, a third of the occupied West Bank.
The visit was not previously announced. According to press reports, Netanyahu has made at least three similar visits to Jordan over the past year.
Jordan maintains cordial relations with the Israeli regime under a US-pushed peace treaty signed in 1994 — one of only two formal agreements the Zionist entity has with an Arab nation.