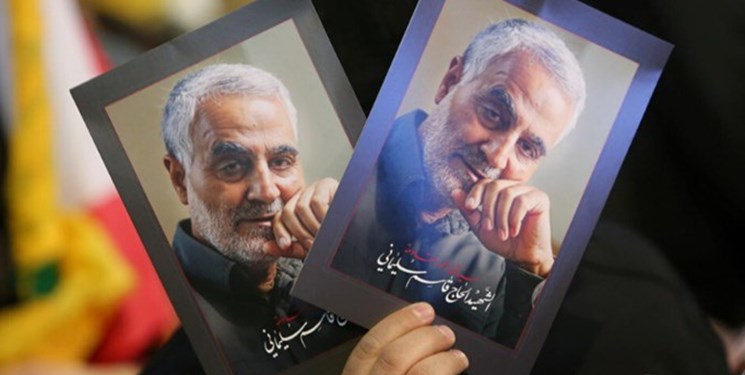 Iranian Judiciary Spokesman Gholam Hossein Esmayeeli said on Tuesday that the country is cooperating with Iraq's investigations into the role of certain foreign companies in providing information to the US for the assassination of anti-terror Commander Lieutenant General Qassem Soleimani.
"The case of certain companies and other countries (than the US) which have played a role or exchanged intelligence in this crime is being accomplished," Esmayeeli told reporters in a press conference in Tehran on Tuesday.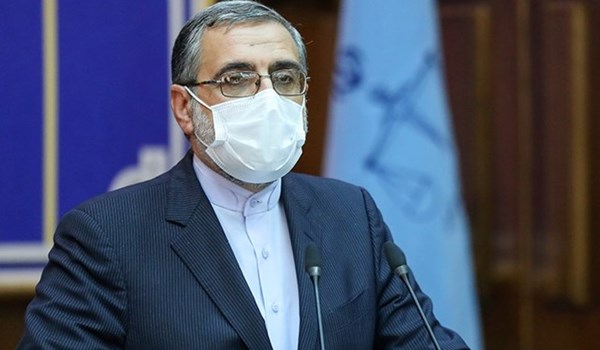 He added that during the recent visit by Iran's Judiciary Chief Seyed Ebrahim Rayeesi to Iraq, both sides' judiciaries decided to increase cooperation to complete investigations on this part of the case in collaboration with international bodies.
Esmayeeli also said that arrest warrants have been issued by the Iraqi judiciary for former US President Donald Trump and a number of other American officials for their roles in this crime.
Late in December, Prosecutor-General of Tehran Ali Alqasi Mehr announced that Iran has given judicial representation to 6 countries to pursue the case with the US assassination of former IRGC Quds Force Commander Lieutenant General Qassem Soleimani.
"We have given Iraq, Syria, Lebanon, Qatar, Jordan and Kuwait judicial representation to pursue the case," Alqasi Mehr said.
He added that 45 Americans suspected of involvement in the terrorist attack have also been identified and rulings have been issued for them to be prosecuted internationally.
"A committee has been set up to find the destinations of these suspects outside the United States to be detained and extradited (to Iran)," Alqasi Mehr said.
He also referred to the collaboration of the British security firm, G4S, in assassination of General Soleimani, and said the company's agents have provided intel to the US terrorist authorities about General Soleimani's arrival at Baghdad airport.
"Issuing necessary judicial representation to identify them (the G4S agents) has been put on agenda as well," Alqasi Mehr said.
He further pointed out that the US airbase in Germany (Ramstein) has been in charge of military reporting on the drones assassination operation in the terror attack on General Soleimani, and said the militaries at the base that have been involved in the attack will also be identified and prosecuted.
Also, Secretary of Iran's High Council for Human Rights Ali Baqeri Kani announced in December that the country has identified and is prosecuting 48 individuals for masterminding and conducting the last year terror attack on General Soleimani.
"48 suspects have been identified in connection with the case of martyred General Qassem Soleimani and necessary measures have been adopted to prosecute them," Baqeri said.
He added that Iran has asked for information and documents with regard to this attack from all the countries which have been one way or another connected to this terrorist crime.
"The latest country was Germany; and we have received reports and information that the Americans' base (Ramstein) in Germany has been involved in exchange of information between the US drones used in the assassination of martyr Soleimani," Baqeri said.
Lieutenant General Soleimani was assassinated in a US drone strike on Baghdad International Airport in Iraq on January 3, 2020.
The airstrike also martyred Iraqi anti-terror commander Abu Mahdi al-Muhandis. The two were martyred in an American airstrike that targeted their vehicle on the road to the airport.
Five Iranian and five Iraqi military men were martyred by the missiles fired by the US drone at Baghdad International Airport.
On January 8 and after the funeral ceremony of General Soleimani, the IRGC Aerospace Force started heavy ballistic missile attacks on US Ein Al-Assad airbase in Southwestern Iraq near the border with Syria and a US operated airbase in Erbil in retaliation for the US assassination of General Soleimani.
Ein Al-Assad is an airbase with a 4km runway at 188m altitude from sea levels, which is the main and the largest US airbase in Iraq. Early reports said the radar systems and missile defense shields in Ein Al-Assad failed to operate and intercept the Iranian missiles. Unofficial reports said the US army's central radar systems at Ein Al-Assad had been jammed by electronic warfare.
The second IRGC reprisal attack targeted a US military base near Erbil airport in Iraqi Kurdistan Region in the second leg of "Martyr Soleimani" reprisal operation.
Iraq said the attacks had not taken any toll from its army men stationed at these two bases. The US army had blocked entrance into Ein Al-Assad to everyone, including the Iraqi army.
The IRGC officials said none of the missiles had been intercepted.