Palestine
Lebanon
Middle East
July War Diary: Lebanon United following Horrible Zionist israeli Massacre in Qana
The nineteenth day of 2006 July War was bloody par excellence. The Israeli enemy committed several massacres against Lebanese civilians, enraging both the Lebanese Government and Hezbollah who vowed that the Israeli crime would not go unanswered.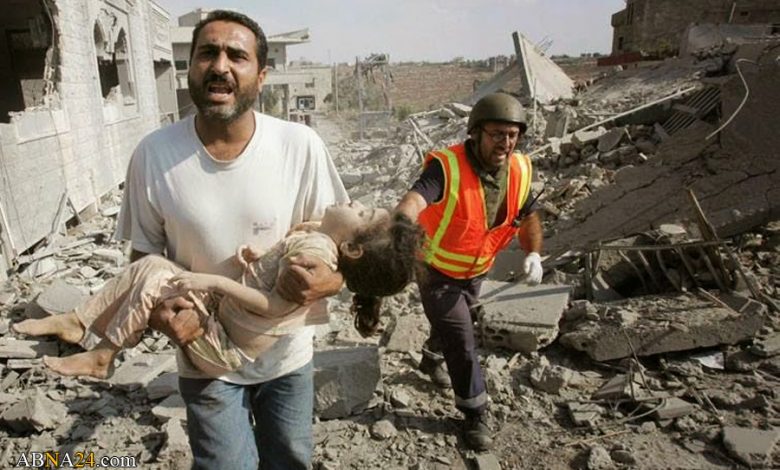 The Lebanese people woke up on Sunday, July 30, 2006 to know that the southern town of Qana was a scene for another historic massacre committed by the Israeli warplanes, echoing the horrible crime committed also in Qana in 1996 April aggression on Lebanon.
Dozens of civilians were killed or injured when the Israeli warplanes targeted a residential area in Qana.
Also in south Lebanon, in the town of Yaroun, another massacre was committed when Israeli warplanes struck a building, killing at least 6 civilians and injuring several other.
The Qana massacre drew widespread condemnations, and saw a united official stance by the Lebanese officials. President Emile Lahoud denounced the Israeli attack, blaming the United States for giving the Zionist entity a green light to go ahead with its crimes against the Lebanese people.
The Lebanese Government held an urgent session, stressing that 'Israel' bears full responsibility. The government declared national mourning over the Lebanese martyrs, describing the Israeli attacks as crimes against humanity.
Speaker Nabih Berri and then Prime Minister Fuad Siniora appeared in a joint press conference, announcing the suspension of talks and stressing the necessity of unconditional ceasefire.
Berri and Siniora called for an international probe into the massacre. Berri noted in the press conference that conditions to hold a prisoner swap deal had been changed following the massacre that was then known as Qana's second massacre.
In a statement, Hezbollah described the Qana massacre as a turning point that will shift the course of the war, stressing that the Israeli aggression would not go unanswered.
Then US Secretary of State Condaleeza Rice cancelled a planned visit to Lebanon after the Lebanese Government announcement of suspending the talks.
The Zionist leadership claimed it was suspending its aerial activity for 24 hours beginning on midnight July 30.
Meanwhile in the battlefield, Hezbollah fighters kept the momentum of rocket fire, despite the continuous Israeli flights across the Lebanese skies and despite Israeli allegations that Hezbollah's rocketry power was damaged by the Israeli strikes.
Israeli cities in the Zionist entity's north were pounded by dozens of Hezbollah rockets.
Hezbollah fighters were also engaged in heroic confrontations with Israeli soldiers of Golani Brigade who attempted to infiltrate into Lebanese territories in the southern town of Taybeh. The Resistance fighters repelled the Israeli advance attempt, killing or injuring many Israeli soldiers.
Elsewhere in the border towns of Odeisseh and Kfarkila, Hezbollah fighters attacked an Israeli force who attempted to advance in the area. Several occupation troops were killed or injured when Resistance fighters destroyed an Israeli Hummer and a Merkava during the attack.