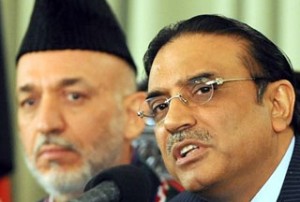 Afghan President Hamid Karzai says his government is ready to hold talks with Taliban leaders, including Mullah Mohammad Omar.
"We have contacts [with the Taliban] as high as you wish to go," Karzai told reporters in Islamabad on Thursday.
Karzai is currently on a tour of neighboring Pakistan in an effort to gain Islamabad's support for his reconciliation plan.
Reports say Britain wants Pakistan to moderate talks between senior Taliban members and the Afghan government.
Karzai says this would be allowed under the Afghan constitution.
He has criticized the Western countries for what he calls uncoordinated approach to his government's plan to engage with Taliban.