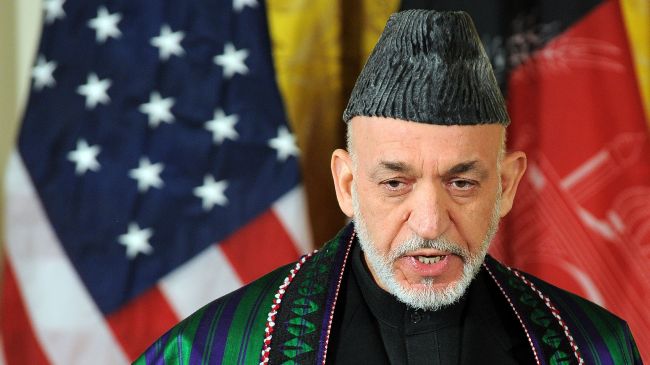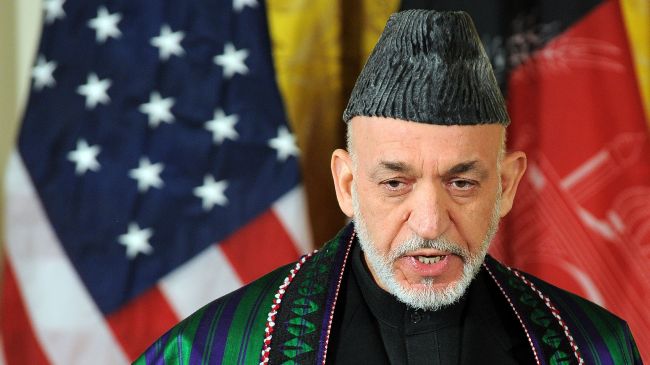 Afghan President Hamid Karzai has vowed to step down at the end of his second term and hold a free election, in which people can elect the next president.
"The greatest of my achievements eventually, seen by the Afghan people, will be a proper, well-organized, interference-free election in which the Afghan people can elect their next president," Karzai said at a joint press conference with US President Barack Obama in Washington on Friday.
"And certainly I will be a retired president, and very happily a retired president," said the Afghan president, responding to the question about Afghanistan's 2014 election.
Karzai was elected president in 2004 and was reelected in 2009. Reports have indicated that there were widespread electoral fraud in both polls.
The two leaders agreed that the US troops would hand over the lead in the fight against Taliban militants to Afghan forces in the coming months.
"And today we agreed that, as Afghan forces take the lead and as President Karzai announces the final phase of the transition, coalition forces will move to a support role this spring," Obama said.
Obama also said that the US troops would train, advise, and assist Afghan forces from the coming spring.
The Obama administration has been considering having a permanent force of between 3,000 to 9,000 US troops in Afghanistan beyond 2014.
However, the White House recently threatened to consider a zero option, which means Washington would not leave any American troops in Afghanistan unless Kabul grants them immunity.
Karzai, who arrived in Washington on Tuesday for a three-day-long visit, also met with US Defense Secretary Leon Panetta and Secretary of State Hillary Clinton on Thursday.
The United States invaded Afghanistan in 2001 under the pretext of combating terrorism. The invasion removed the Taliban from power, but insecurity continues to rise across the country, despite the presence of thousands of US-led troopers there.