Palestine
Kashmiris slam Israeli onslaught on Gaza Strip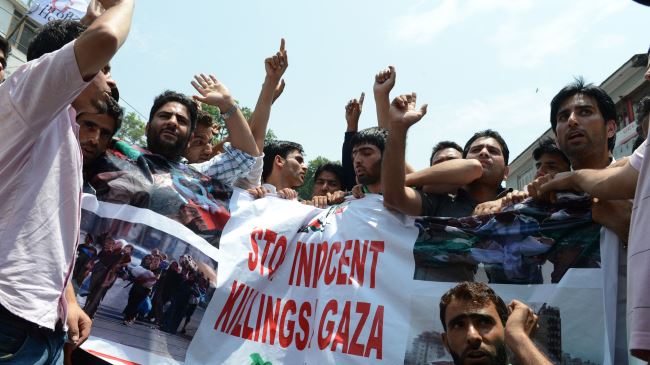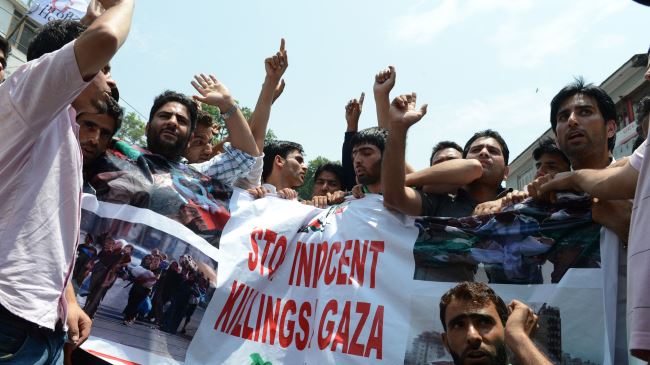 People in the Indian-administered Kashmir have held rallies across the Himalayan region to condemn Israel's military operation in the besieged Gaza Strip, Press TV reports.
Demonstrators took to the streets after the Eid al-Fitr prayers, marking the end of the Muslim fasting month of Ramadan, shouting anti-Israeli slogans.
"It's shameful for Arabs who are watching these atrocities silently. For us, Palestine and Kashmir are no different. We will do whatever it may take to show our support for the people of Palestine. Today it's Palestine; tomorrow it can be some other Muslim country. It's high time for Muslims to react," a demonstrator told the Press TV correspondent.
The protests turned violent as security forces fired tear gas and used batons to disperse the demonstrators who in response threw stones at the government forces. A number of the protesters were injured during the clashes.
Since July 8, Israeli warplanes have been pounding numerous sites in the Gaza Strip, demolishing houses and burying families in the rubble. Israeli forces also began a ground offensive against the impoverished Palestinian land on July 17.
The Ezzedine al-Qassam Brigades, the military wing of the Palestinian resistance movement Hamas, has been launching retaliatory attacks against Israel.
So far, more than 1,200 people have been killed and thousands of others injured by the Israeli offensive against the coastal sliver.