World News
Kazakhstan says situation stabilized, president firmly in charge after deadly unrest over fuel price
Authorities in Kazakhstan say the situation has been stabilized and President Kassym-Jomart Tokayev is firmly in charge after a week-long unrest over a hike in fuel prices that rocked the Central Asia's largest country.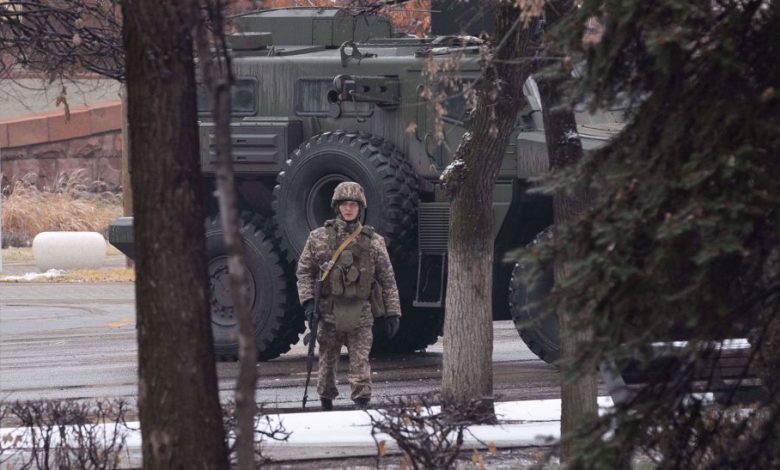 Mass protests began in Kazakhstan's western province of Mangistau on January 2, after the government decided to lift price controls on liquefied petroleum gas (LPG) — a move that roughly doubled gas prices in a matter of days. Protests then engulfed other parts of the country.
On Wednesday, Tokayev declared a two-week state of emergency, including a curfew, movement restrictions, and a ban on mass gatherings, in Almaty, the biggest city, and Mangistau.
Scores of people lost their lives in the past week, with rioters torching and ransacking public buildings in several cities, prompting Tokayev on Friday to issue orders to shoot-to-kill without warning in an attempt to end the unrest, which he has blamed on 20,000 "armed bandits".
The deadliest outbreak of violence in 30 years of independence in Kazakhstan is regarded as an attempt by foreign parties to provoke "color revolutions" in the ex-Soviet country, modeled on the "Rose Revolution" in Georgia and the "Orange Revolution" in Ukraine, which Russia has blamed on the West.
On Sunday, security and intelligence officials briefed Tokayev that they were continuing "clean-up" operations in what he has called a huge counter-terrorism operation across the oil-producing ex-Soviet republic that borders Russia and China.
"The situation has been stabilized in all regions of the country," said the presidential office in a statement detailing the security briefing chaired by Tokayev, adding that law enforcement agencies had managed to seize back control of administrative buildings and that vital services were being restored.
The unprecedented unrest prompted Tokayev to appeal for help from the Collective Security Treaty Organization (CSTO) — a military alliance made up of Russia and five other former Soviet states — to quell the protests and restore peace and security.
The CSTO dispatched several thousand troops to Kazakhstan, including Russian paratroopers, in a declared aim of securing strategic sites.
The arrival of Russian forces in Kazakhstan comes at a time of high tension in Russia-US relations ahead of talks this week on the Ukraine crisis.
"A number of strategic facilities have been transferred under the protection of the united peacekeeping contingent of the CSTO member states," the presidential office said in a statement.
Russian paratrooper commander Andrey Serdyukov said the force had finished deploying to Kazakhstan and would remain there until the situation stabilized completely.
Serdyukov said the troops were guarding important military, state and socially-important sites in major city Almaty and nearby areas. He did not identify the facilities.
The internet is still heavily restricted, with access only available to the presidential website and a number of other websites belonging to local news outlets.
'About 6,000 arrested since riots erupted'
Elsewhere in the statement on Sunday, the presidential office said that 5,800 people, in total, were detained for questioning as part of 125 separate investigations into the deadly unrest, adding that the figures included "a substantial number of foreign nationals."
The interior ministry also said that damage inflicted to public properties during the unrest stood at around 175 million euros ($198 million), adding that over 100 businesses and banks were attacked and looted and more than 400 vehicles were destroyed during the period.
Protesters were particularly angry at Nursultan Nazarbayev, who is 81 and had ruled Kazakhstan since 1989 before handing over power. Many demonstrators shouted "Old Man Out!" in reference to the ex-leader, and a statue of him was torn down in the southern city of Taldykorgan.
'164 people killed during unrest'
Also on Sunday, media cited the health ministry as saying that at least 164 people were killed in the riots, including 103 in Almaty, where some of the fiercest clashes between protesters and police occurred.
The new figures mark an enormous increase in the death toll with the interior ministry previously saying 26 "armed criminals" had been killed and 18 security officers had died in the unrest, which also inflicted injuries to more than 740 people.
Kazakhstan is a major energy power, among the top exporters of oil globally and in the leading 20 for gas. The country's government has subsidized liquefied petroleum gas for years, but when it lifted price controls on LPG, it argued that keeping them in place was no longer sustainable.
The latest protests shook the country's image as a politically stable and tightly controlled nation — an image it has used to attract hundreds of billions of dollars in foreign investment in its oil and metals industries.