Syria
Kerry hints renewed US efforts to intervene in Syria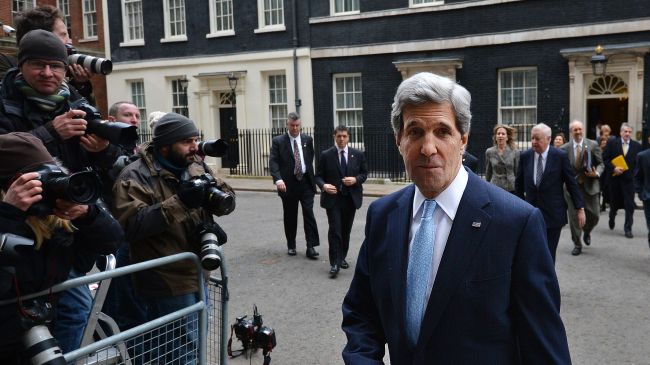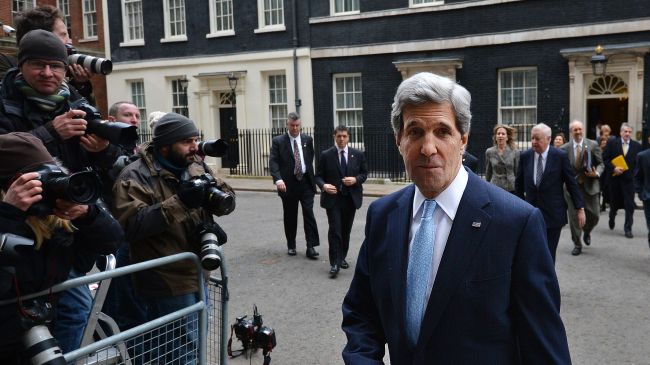 New US Secretary of State John Kerry has underlined American 'determination' to intervene in Syria in favor of foreign-backed opposition forces seeking removal of the Damascus government.
Kerry announced Monday in a London press conference that the Obama administration has been looking at fresh 'steps' to expand its support for the anti-Damascus armed gangs in a bid to hasten the departure of Syrian President Bashar al-Assad and that some of the steps would be decided at a West-led anti-Assad conference in Rome on Thursday, The New York Times reports Tuesday.
"We are determined that the Syrian opposition is not going to be dangling in the wind wondering where the support is or if it's coming," said Kerry in an unusually undiplomatic remarks by him, described in the report as "an unusual White House intervention over the Rome meeting."
"And we are determined to change the calculation on the ground for President Assad," Kerry further boasted.
The tough remarks came following a well-publicized threat by the largely Western-sponsored anti-Assad opposition to boycott the Rome conference to protest "negligible help" from pro-Israeli Western governments, the daily adds.
The report further notes that Kerry and US Vice President Joseph Biden called their propped-up "leader of the Syrian opposition coalition" Moaz al-Khatib "and persuaded him to attend" the Rome meeting on Thursday.
Although the well-connected US paper does not elaborate on how the two senior American officials persuaded al-Khatib to show up at the Rome event, it cites "some American officials" as saying that the new US-led Western aid to anti-Assad militants "might include night-vision equipment or armored cars."
"We are not coming to Rome simply to talk," Kerry further insisted in London. "We are coming to Rome to make a decision about next steps and perhaps even other options that may or may not be discussed further after that."
Kerry, however, refused to mention if the US is prepared to provide "nonlethal aid" to anti-Damascus armed groups, which have widely been documented to commit atrocities and terror acts against ordinary civilians across Syria as well as suspected pro-government activists and militias.
The development comes following recent reports that US President Barack Obama rejected a CIA-devised plan, backed by the Pentagon and his State Department, for a US military intervention in Syria, including the arming and training of anti-Assad rebel militants.
Britain was the first stop on Kerry's nine-nation tour, focusing on the American-led agenda to undermine and topple the Syrian government, which has over the years persistently supported the regional resistance against the US-backed Israeli aggression.
Kerry flew to Germany late Monday and plans to meet with top German officials as well as Russian Foreign Minister Sergey Lavrov on Tuesday.
Syria has been embroiled in a foreign-fueled armed insurgency and unrest since 2011, leaving thousands of civilians and soldiers killed and injured while inflicting a trail of destruction across the key Middle Eastern country.
Syrian US-backed neighbors of Turkey and Jordan have played major roles in allowing the transfer of weapons and foreign militia into Syria to incite the turmoil in the country.