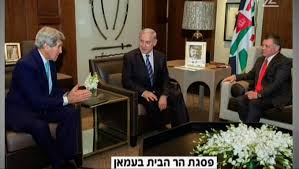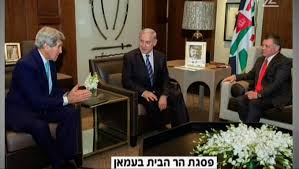 US Secretary of State John Kerry has met with Israeli Prime Minister Benjamin Netanyahu and Jordanian King Abdullah II in Amman to find a way out of the rising tensions in al-Quds (Jerusalem).
The trilateral meeting on Thursday in the Jordanian capital at the king's palace was focused on deescalating tensions over the access to the al-Aqsa Mosque in East al-Quds.
Israel has recently increased restrictions on the access of Muslim worshippers to the al-Aqsa Mosque compound. Palestinians are extremely angry at Tel Aviv's new policies, considering the measures as part of the Israeli regime's plan to Judaize and desecrate the holy Islamic site.
The top US diplomat said steps have been agreed to lower the tensions.
"We are not going to lay out each practical step; it is more important they be done in a quiet and effective way," Kerry said.
"It is clear to me that they are serious about working on the effort to create de-escalation and to take steps to instill confidence that the status quo will be upheld," he added.
Ahead of the talks in Amman, US State Department deputy spokeswoman Marie Harf said, "They will focus on ways to restore calm and de-escalate tensions in Jerusalem."
The talks were held in Jordan as the country is considered custodian of the al-Aqsa Mosque in the holy city.
Kerry also sat down at talks with Mahmoud Abbas, the president of the Palestinian national unity government.
Abbas told Kerry about the Palestinian outrage over restriction of access to the mosque.
He also raised the issue of Palestinians' growing impatient with the violation of their rights by the regime in Tel Aviv.
Abbas also denounced Israel's "repeated aggressions and provocations in Jerusalem."
Before meeting with Kerry, the Palestinian president held talks with Jordan's king about the rising tensions in the occupied Palestinian territories.