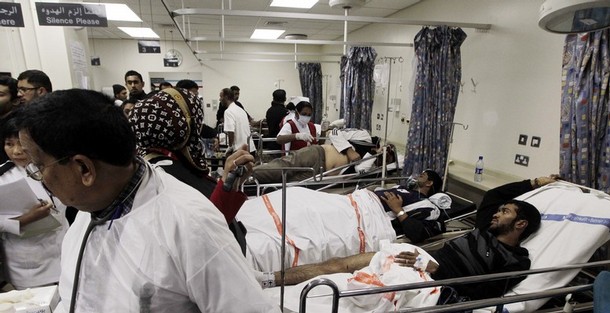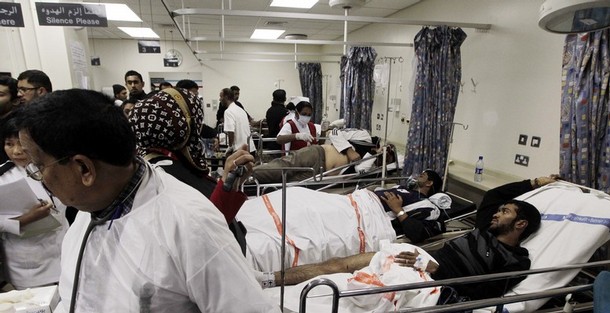 MANAMA – Bahraini regime has detained a human rights lawyer and at least two doctors as part of a crackdown on pro-democracy protestors in the Persian Gulf Arab kingdom, campaigners said Saturday.
The al-Khalifa regime incited the worst sectarian clashes since the 1990s last month after revolutioneries, emboldened by uprisings in Egypt and Tunisia, took to the streets.
Manama imposed martial law and "invited" in troops from Saudi Arabia and other PGCC allies to keep order.
On Saturday, Bahraini forces backed by Saudi troops opened fire on anti-government protesters in the northwestern village of Bani Jamrah, dispersing the protesters by force.
Witnesses say Bani Jamrah was surrounded by military tanks and all entrances to the village were closed, ABNA reported.
Bahraini security forces have also attacked a crowd of anti-government protesters in Karzakan as they were heading to the village's cemetery.
Anti-government protest rallies were also held in Diraz village and the town of A'ali where hundreds of protesters attended the funeral procession of Allama Sayyad Alawi al-Ghureifi.
Amid the chaos, the Manama regime has demolished more mosques and arrested hundreds of opposition figures and political activists to stifle the popular revolution.
According to Reuters, security forces arrested lawyer Mohammed al-Tajer on Saturday, the Bahrain Youth Society for Human Rights and Wefaq, the biggest opposition party, said.
At least two doctors were also detained, said Wefaq politician Mattar Ibrahim Mattar.
Opposition activists have accused the government of trying to intimidate medical staff to discourage them from treating protestors.
"Two doctors were detained," he said. "They arrested Mohammed al-Tajer to put fear also into lawyers."
Wefaq mobilized more than 100,000 protestors during peaceful marches when the government still allowed gatherings.
The party called for a constitutional monarchy but did not join smaller groups in demanding the overthrow of the al-Khalifa ruling family.
Wefaq won nearly half of seats in parliament in last year's elections but complained electoral districts had been re-drawn to prevent Shia candidates from taking a majority.
Wefaq resigned its seats in parliament in protest at the government crackdown. By-elections are expected in May to replace them.
Parliament has little power and the cabinet, appointed by the king, has been headed by the same member of the ruling family for four decades.