Middle East
Kuwaitis demonstrate to condemn Charlie Hebdo cartoons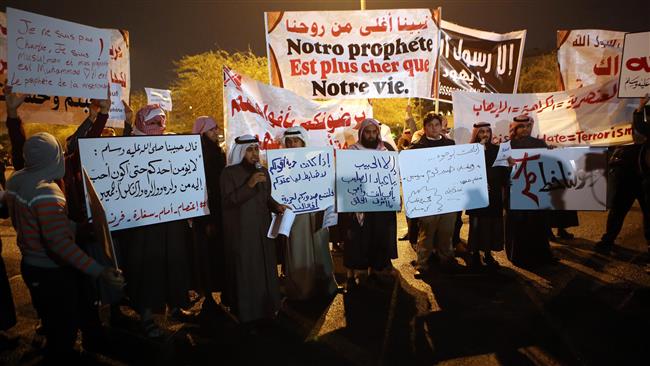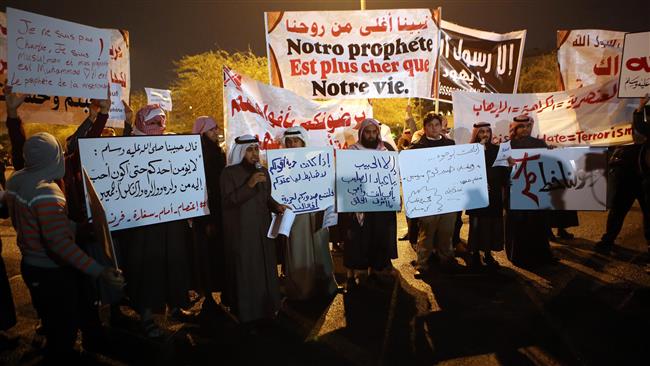 People in Kuwait have taken to the streets to condemn the French satirical magazine Charlie Hebdo that has featured yet another insulting cartoon of Islam's Prophet Muhammad on its recent cover.
Shouting slogans against the insulting move, Kuwaiti protesters held a demonstration outside the French embassy in the capital, Kuwait City, on Thursday.
Some five million copies of the new edition of the satirical magazine were sold on January 14 in the wake of a January 7 attack on Charlie Hebdo office in Paris, in which 12 people were killed.
In addition to Kuwait, Morocco also joined other Muslim states to protest against the publication of the cartoons.
"We condemn terrorist attacks but also any offence against the Muslim religion, its symbols and its Prophet," Communication Minister Mustapha Khalil told reporters on Thursday.
He added that Rabat will ban "foreign publications that reproduce" the cartoons.
The French weekly has repeatedly provoked Muslim anger by publishing such offensive cartoons.
An al-Qaeda branch in Yemen claimed responsibility for the attack on Charlie Hebdo. The group said it chose and supported Said and Cherif Kouachi, the two brothers who allegedly carried out the deadly assault.