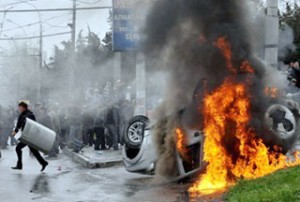 Protestors have seized the presidential administration building in the capital city of Bishkek and installed their own "people's government," a key opposition leader says.
"Opposition leaders are already in the government palace where a new people's government has been formed," said lawmaker Temir Sariyev.
Sariyev added that Roza Otunbayeva, the former foreign minister has been appointed as the head of the new government.
Kyrgyz President Kurmanbek Bakiyev is no longer in Bishkek as he departed onboard a small plane as riots escalated in the capital city, a Bishkek airport staff told AFP.
The US State Department says Washington still regards the government of President Bakiyev to be in power.
"We continue to think the government remains in power," State Department spokesman P.J. Crowley said, adding the US has no additional information to confirm reports that the opposition had seized control.
At least 47 people were killed and 400 others injured in the unrest in the central Asian nation.
The demonstrations were triggered by growing discontent about government policies and a rise in fuel prices.
The protestors demanded the resignation of President Bakiyev.