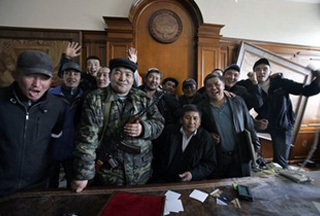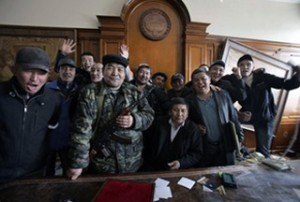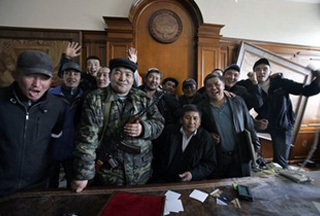 The ousted Kyrgyz president says he is still in the country and refuses to resign despite the opposition claim of forming an interim government.
The opposition has already taken over the government of the impoverished Central Asian state and dissolved the parliament after the 60-year-old Bakiyev fled deadly clashes in capital Bishkek, which has claimed the lives of at least 75 people, with over 1,000 injured.
President Kurmanbek Bakiyev said he had been ousted in "a state coup attempt" with outside help. He added that it is "virtually impossible to conduct such a coordinated operation" without outside forces, he told Russia's Echo of Moscow radio on Thursday.
He declined to name any country which has helped the opposition in the coup attempt.
"I am in the south of Kyrgyzstan and have no plans to leave at the moment," he told the radio in an interview.
On Thursday, residents in the country's capital woke up to find most of their shops shattered and empty after a night of looting. Streets were filled with broken glass from shop windows.
Protesters also demolished and burned the house of the toppled president.
The new interim leader Roza Otunbayeva demanded the resignation of President Bakiyev, whom she said helped bring to power five years ago. She has promised a new constitution and a presidential election within the next six months.
Otunbayeva said that a care-taker government will serve as both presidency and parliament for the present. She claimed that they are in full control of the capital, the armed forces and the media.
The opposition has also said it wants the US base, Manas, removed from its soil for security reasons.
Meanwhile, Russian Prime Minister Vladimir Putin has expressed surprise at the bloody riots in Kyrgyzstan on Wednesday. Putin talking to Otunbayeva over the phone on Thursday offered humanitarian aid to the nation, AFP reported.