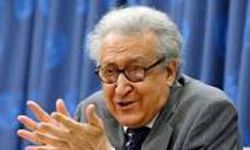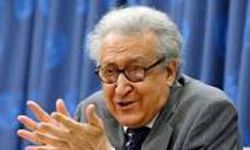 New UN-Arab League Joint Special Envoy on Syria Lakhdar Brahimi, in a phone conversation with Iranian Foreign Minister Ali Akbar Salehi, emphasized Iran's constructive role in settling the Syrian crisis.
During the phone talk between two officials on Saturday, Brahimi highlighted Iran's positive role in the Syrian developments, and stressed that political solution is the only way to restore durable peace in the Arab country.
He expressed hope that all the involved sides would help establish security in Syria as well as peace in the region.
Salehi, for his part, told the UN envoy that Iran is seeking a peaceful solution to Syrian crisis away from foreign interference.
He also told Brahimi that Iran is perfectly ready to help him to set up peace in Syria.
Former UN-Arab League Special Envoy on Syria Kofi Annan announced on August 2 that he was quitting because of the lack of international support for his peace plan.
On August 17, UN Secretary General Ban Ki-moon announced the appointment of Brahimi as the new joint special representative of the UN and the Arab League for Syria to replace Annan.
Brahimi, who was Algeria's foreign minister from 1991 to 1993, also served as the UN envoy in Afghanistan after the September 11, 2001 attacks in New York and in Iraq after the 2003 US-led invasion.
Syria has been experiencing unrest since March 2011 with organized attacks by well-armed gangs against Syrian police forces and border guards being reported across the country.
In October, calm was eventually restored in the Arab state after President Assad started a reform initiative in the country, but Israel, the US and its Arab allies are seeking hard to bring the country into chaos through any possible means. Tel Aviv, Washington and some Arab capitals have been staging various plots in the hope of stirring unrests in Syria once again.
The US and its western and regional allies have long sought to topple Bashar al-Assad and his ruling system. Media reports said that the Syrian rebels and terrorist groups have received significantly more and better weapons in recent weeks, a crime paid for by the Persian Gulf Arab states and coordinated by the United States.