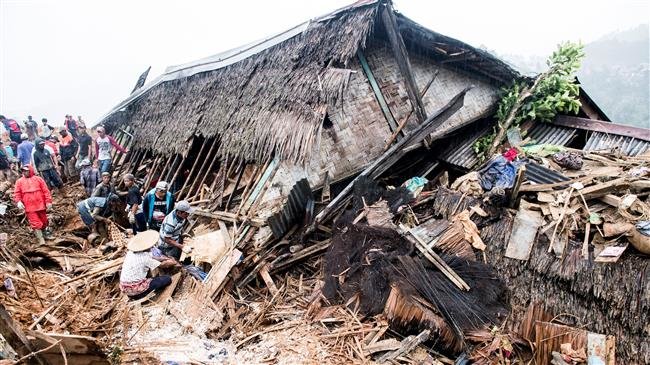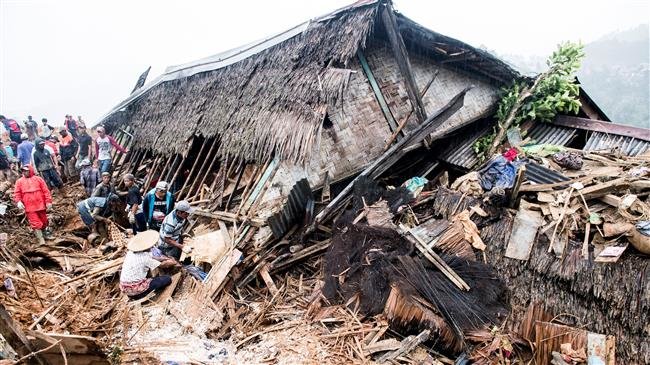 Indonesian rescue teams were searching for victims of a series of landslides that killed at least 15 people on New Year's Day, officials said, after a year of natural disasters that killed thousands.
At least 20 people were missing after landslides during heavy rain buried 30 houses in Sukabumi regency, West Java.
"Loose soil is a danger to rescue teams that are working in the field," said disaster mitigation agency spokesman Sutopo Purwo Nugroho.
Heavy rain had forced rescuers to suspend the search on Tuesday.
Indonesia is a disaster-prone archipelago that in 2018 suffered its deadliest year in over a decade in a series of earthquakes and tsunamis in different regions that killed more than 3,000 people.
Indonesia forms part of the Pacific "Ring of Fire" and is regularly hit by earthquakes. Landslides are common in the vast tropical archipelago.
An underwater landslide triggered by the eruption of the Anak Krakatau Volcano in the Sunda Strait between the islands of Sumatra and Java caused a tsunami on December 22, leaving hundreds of people dead.
In October, flash floods and landslides hit several provinces on Sumatra Island in western Indonesia, claiming the lives of over 20 people.
A powerful earthquake hit the island of Sulawesi on September 28. In the towns of Baleroa and Petobo, rivers of soil swept away entire neighborhoods in the aftermath of a magnitude-7.5 earthquake and an ensuing tsunami.
The death toll from the quake is nearly 2,000.
(Source: Agencies)