Palestine
Large damage in four Zionist Slaughterer Israeli airstrikes on Gaza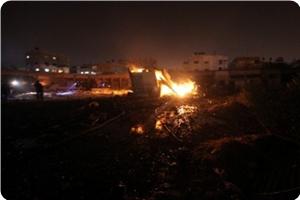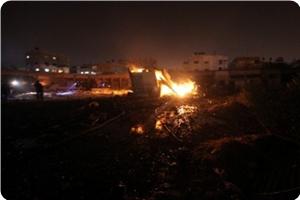 The Israeli regime carried out four aerial attacks on different areas in the Gaza Strip on Sunday evening causing considerable damage with no reported casualties.
A reporter for the Palestinian information center (PIC) said the air raids started with an Israeli airstrike on a house belonging to Al-Beheiri family northeast of Al-Bureij refugee camp, which led to its destruction.
The Israeli warplanes also bombed an empty yard near the car market in Zeitoun neighborhood east of Gaza city.
The bombing caused strong tremors in the area.
The attacks were followed by similar ones in Ma'an area in Khan Younis and Beit Hanoun leading to the destruction of structures belonging to Al-Qassam Brigades, the armed wing of Hamas.
Earlier, a young resistance fighter from Al-Qassam Brigades was killed and another was wounded by an Israeli warplane as they were trying to fend off infiltrating troops east of Khan Younis at dawn Sunday.
The Israeli military escalation which started lately rendered nine Palestinians dead and wounded 14 others.
In retaliation to Israel's military aggression, Hamas's armed wing Al-Qassam Brigades declared its responsibility on Sunday for launching rocket attacks on Israeli army targets near Gaza areas.
The Brigades affirmed in a communiqué that its counterattacks took place in response to Israel's persistent crimes in Gaza.
The Israeli army, for its part, claimed that eight rocket projectiles landed in the complex of settlement outposts known as Eshkol south of the occupied Palestinian lands.
It added that the attacks did not cause any casualties or material damage to Israeli structures.
In a related context, mayor of Sderot settlement David Pascal went on hunger strike in protest at the Israeli government's disregard for the security situation of his settlement, which is located in the range of resistance rocket attacks.
It was reported that the health status of Pascal, who started his hunger strike about six days ago, has deteriorated.
He is trying to pressure the Israeli government to fulfill his demand for strengthening the security side of his settlement.
In this regard, the Israeli army submitted a plan to their government about strengthening the fortification of 26 settlements surrounding Gaza.