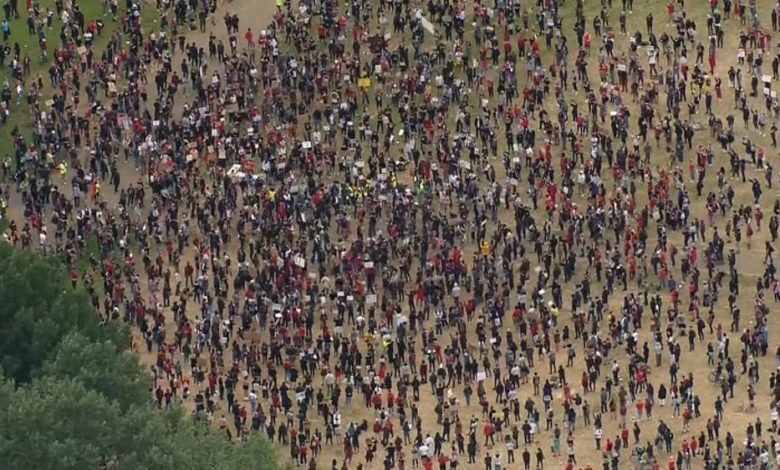 Thousands of people have converged on Hyde Park in central London to show solidarity with anti-racism and anti-establishment protests sweeping across the US.
The protest started at 1pm local time with large groups quickly swelling to demonstrate and chant slogans in sympathy with the protest movements engulfing cities and communities across America.
Some of the British marchers were holding up banners emblazoned with the iconic words "no justice, no peace".
Today's demonstration in Hyde Park appears to be even bigger than the one in Trafalgar Square two days ago when large crowds broke coronavirus lockdown rules to support protesters across the Atlantic in the US.
The large gathering in Hyde Park poses a twin challenge to the UK authorities for not only does it breach coronavirus-related restrictions (notably social distancing) but far more importantly it is a warning to the British security apparatus about the potential of US-style protests engulfing British streets.
The Metropolitan Police Commissioner, Dame Cressida Dick, has tried to meet the potential threat head on by appeasing British protesters.
Dick, who controls policing across London's 32 boroughs, told Sky News she recognizes that "feelings are running higher in London" in the wake of the brutal killing of George Floyd in the US and the subsequent protest movement that has broken out across America.
Dick added that she wants to "reassure" the public that her officers will "continue with our tradition of policing using minimum force necessary".
In tandem with the demonstration in Hyde Park there are also reports of a protest in South Park in Oxford, 95 km from London.
There are no credible reports yet about the size of the demonstration in Oxford.