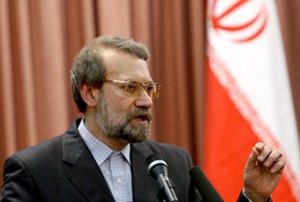 Iranian Parliament Speaker Ali Larijani on Tuesday criticized a top US military commander over what he called a barrage of angry rhetoric about Iran's presidential election in June.
"The murderous government of the United States is a government of thugs which has killed thousands of Iraqis, Afghans and Palestinians," Larijani said Tuesday.
US Central Command Chief General David Petraeus, in a Sunday interview with CNN, claimed that the Islamic Republic's conduct in dealing with the violence following last June's presidential election showed that the country has gone "from being a theocracy to a thugocracy."
Larijani said it was understandable that the "exhausted general" had insulted the Iranian government because the people of the region hate the United States.
The White House is currently managing two wars in the oil rich Middle East. The civilian deaths in Iraq and Afghanistan as well as the ongoing military presence in the two countries have added to anti-American sentiments in the region.
Larijani praised the "crushing response" that the Iraqi nation gave to the occupying US forces by massively participating in the parliamentary vote despite US interference — Washington had sought to allow a possible comeback of the Ba'athists to power in the country.
Larijani also noted that that the US government has committed heinous crimes in Abu-Ghraib and Guantanamo prisons, adding: "You are suffering from the political isolation among nations but the use of such insulting words will never settle your problems but incite more public hatred."
"[Regional] nations and particularly the people of Iran, as the center of the Islamic vigilance, will strongly take steps toward fighting against the US."