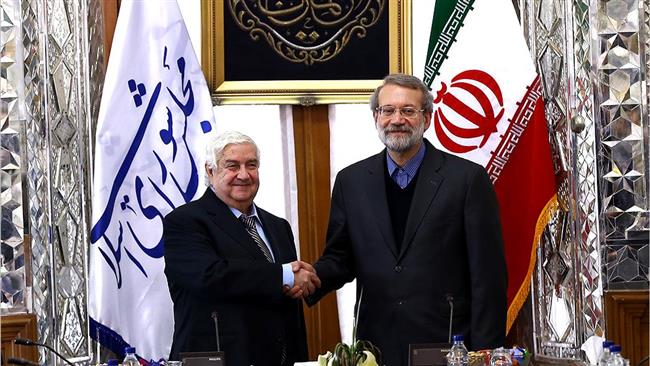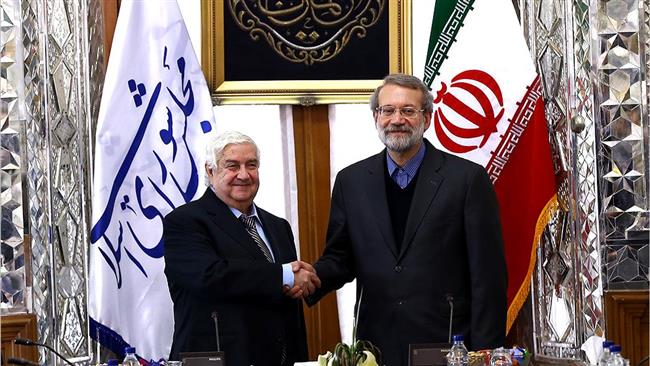 Iranian Parliament Speaker Ali Larijani and Syrian Foreign Minister Walid al-Muallem have discussed the latest developments in Syria.
In a meeting in Tehran on Sunday, the two senior Iranian and Syrian officials also exchanged views about the current nationwide ceasefire in Syria and a resolution adopted by the United Nations Security Council endorsing the truce agreement.
Larijani and Muallem emphasized that only a political solution can solve the Syrian crisis.
On Saturday, the Security Council approved the resolution which also aims to pave the way for new talks in the Kazakh capital city of Astana next month, ahead of the resumption of UN-brokered talks in the Swiss city of Geneva in February.
The text of the resolution "welcomes and supports the efforts by Russia and Turkey to end violence in Syria and jumpstart a political process."
The nationwide ceasefire in Syria, which came into effect on Thursday midnight, has been largely holding, with most of the country witnessing a relative calm.
There were, however, sporadic clashes between Syrian government forces and their allies on one side and Takfiri militants on the other in the mountainous Wadi Barada region near the capital, Damascus, as well as the southern city of Dara'a.
The so-called Syrian Observatory for Human Rights, based in Britain, also said in Saturday that most of Syria remained calm, despite limited clashes.
Jabhat Fateh al-Sham, formerly known as the al-Nusra Front, and Daesh terrorist groups are excluded from the ongoing truce, mediated by Russia and Turkey, in the country.
The Syrian foreign minister arrived in Tehran on Saturday at the head of a high-ranking delegation. He held talks with senior Iranian officials, including President Hassan Rouhani, Foreign Minister Mohammad Javad Zarif and Secretary of the Supreme National Security Council Ali Shamkhani on Saturday. Muallem also met with Ali Akbar Velayati, a top adviser to Leader of the Islamic Revolution Ayatollah Seyyed Ali Khamenei, on Sunday.