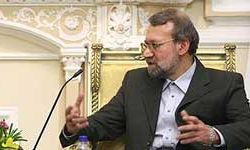 Iran's Parliament Speaker Ali Larijani has been re-elected as the head of Majlis' Principlist bloc, says a parliamentarian.
Larijani garnered 24 votes to retain his post as the head of the Principlist bloc for the second year, said Vali Esmaeili, a member of the bloc's Central Council.
His rival for the post, Morteza Aqa-Tehrani, only received seven votes.
Vice Parliament Speaker Mohammad-Reza Bahonar and Mohammad-Hasan Abutorabi were also re-elected as the Principlist bloc's first and second deputy heads with 18 and 16 votes, respectively.