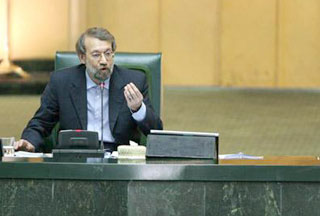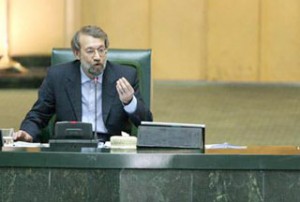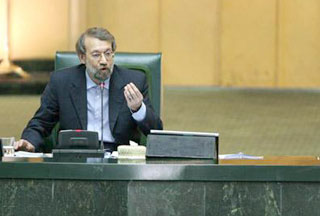 Iranian Parliament Speaker Ali Larijani lashes out at Western powers for their 'hasty' attitude towards the country's post-election events.
Larijani, presiding over the swearing-in ceremony of President Mahmoud Ahmadinejad on Wednesday, urged Iranian officials to strengthen their unity.
"This convergence will send a message to the West that the Iranian nation will remain united to foil the enemy's plots," he said.
"Certain Western powers ridiculed themselves by their hasty behavior towards post-election events," he added.
After winning a hotly disputed election in Iran, Mahmoud Ahmadinejad took his oath of office as the country's president for a second term before the Parliament (Majlis) on Wednesday.
His re-election provoked outrage among other presidential candidates and their supporters who staged mass rallies across the country in protest to the June 12 presidential vote, which they said was 'rigged'.
However, the Leader of the Islamic Revolution Ayatollah Seyyed Ali Khamenei on Monday confirmed his support of the president and endorsed him for his second term in office. The Leader urged Ahmadinejad to heed the views of his 'critics'.
In his Wednesday remarks, Larijani pointed out that Majlis has a 'realistic' approach to the ongoing events in the country and makes recommendations for the newly inaugurated government.
He called on the government to follow a legal path and make use of capabilities of the elite in drawing plans for the future.
"Majlis will follow up guidelines of the Leader and places interaction with the government as its priority," Larijani said.
Iranian Judiciary Chief Ayatollah Mahmoud Hashemi Shahroudi, who was also present at Ahmadinejad's swearing-in ceremony, urged the president to spare no efforts in safeguarding borders and the country's political, economic and cultural independence.
He ordered all Iranian authorities to 'refrain from focusing on minor issues' and act within the framework of the Leader's guidelines.
"We will miss the opportunity for Iran's development should we waste the time," Shahroudi said.
Head of the Leader's Office Mohammad Mohammadi Golpayegani, heads of the three branches of the government, Secretary of the Guardian Council Ayatollah Ahmad Jannati and a number of foreign ambassadors in Tehran took part in the ceremony.