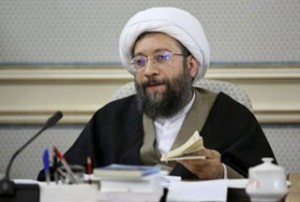 Iran's Judiciary chief slams the US for adopting a contradictory nuclear policy, describing the country as "the biggest nuclear criminal in the world."
"The US is the first and biggest nuclear criminal in the world. The US employs and proliferates nuclear weapons, while claiming that it prevents the proliferation of weapons of mass destruction," Ayatollah Sadeq Amoli Larijani said Sunday.
He added that Israel, which is not committed to international non-proliferation regulations, seeks to develop nuclear weapons.
"As the main supporter of nuclear weapons, the US openly backs the Zionist regime (Israel) while accusing countries such as Iran of making efforts to develop such weapons."
The Judiciary chief emphasized Iran's determination to continue its nuclear activities and said, "The Islamic Republic of Iran has never sought to use or develop nuclear weapons and will not abandon its peaceful nuclear program."
Ayatollah Larijani added that the proliferation of nuclear weapons is against the religious beliefs observed by the Islamic Republic and said, "Iran has always condemned irrational and inhumane moves by certain countries seeking to spread nuclear arms."
Tehran hosted an international nuclear disarmament conference with the aim of promoting nuclear disarmament and non-proliferation.
The conference, dubbed "Nuclear Energy for All, Nuclear Weapons for None", was held on April 17 and 18.