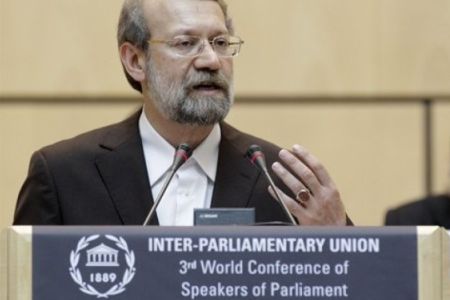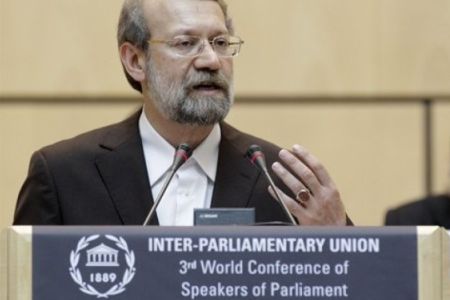 Iran's Parliament Speaker Ali Larijani says the US has insulted Brazil and Turkey by disregarding the Tehran declaration.
"The US move at the UN Security Council was an insult to Turkey and Brazil, because they (US officials) tasked them with a mission and then did not support them," Larijani said, pointing to a US-proposed sanctions resolution that was passed in the UN Security Council on June 9 against Iran over its nuclear program.
He made the remarks in Geneva on Tuesday, where he was attending the 3rd World Conference of Speakers of Parliament.
He noted that the declaration was not originally developed based on plans by Turkey and Brazil, noting that the US had sent letters to leaders of Turkey and Brazil, encouraging them to sign the declaration.
"I met Mr. Erdogan and Mr. Lula in Tehran and they discussed the [US] letters, but I told them that we don't trust the US but they said that they were confident that Mr. Obama wants to pursue a new path," Fars news agency quoted Larijani as saying on Tuesday.
"We accepted this because of our respect for Brazil and Turkey and we believe that what the US did in the UN Security Council was an insult to Turkey and Brazil," the Iranian speaker added.
Foreign ministers of Iran, Turkey, and Brazil signed the declaration in the Iranian capital on May 17, according to which the Islamic Republic would ship 1200 kilograms of its low-enriched uranium to Turkey to be exchanged for 120 kilograms of 20 percent enriched nuclear fuel rods to power the Tehran research reactor, which produces radioisotopes for cancer treatment.
While the US possesses and has used nuclear weapons in the past, Washington, in a politically-motivated move, is imposing unilateral sanctions against Iran, which does not possess nuclear weapons nor does it seek to develop such weapons.