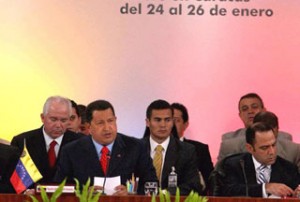 Latin American presidents have organized a meeting to take a step to 'break' their dependence on US dollar in regional financial transactions.
Venezuelan President Hugo Chavez said on Saturday that the leaders would meet Monday in Caracas.
"We'll have a very important meeting of economy ministers from ALBA (Bolivian Alliance for the peoples of Americas) to further shape an extraordinary project" on a new currency, Chavez said.
The currency, the Sucre, will "break the dependency on the dollar, its economic and financial colonialism," he added.
The Sucre was named after Jose Antonio de Sucre who fought for independence from Spain alongside Venezuelan hero Simon Bolivar in the early 19th century.
Leftist Latin American leaders agreed on using the new intra-regional trading currency in an October meeting of ALBA. The currency is expected to be rolled out early this year in a non-paper form.
Formed in 2004, ALBA is an alliance for regional integration between the countries of Latin America and Caribbean.
ALBA's nine members include Venezuela, Bolivia, Cuba, Ecuador, Nicaragua, Honduras, Dominica, Saint Vincent and the Grenadines, and Antigua and Barbuda.