North America
World News
Lawsuit filed in US court against Boeing over Ethiopian Airlines crash
A lawsuit has been filed against plane-maker Boeing in the United States over the recent crash of the company's 737 Max airplane operated by Ethiopian Airlines.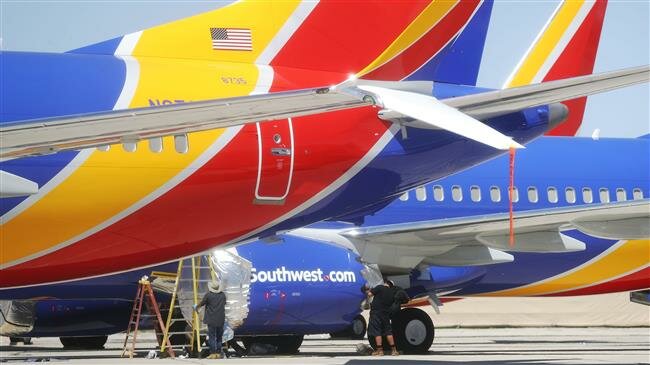 The lawsuit, filed on Thursday in Chicago federal court, was the first legal action against Boeing by one of the families of the victims of the disaster that killed 157 people on March 10.
The suit alleges that Boeing failed to warn the public, airlines and pilots about the airplane's erroneous sensors.
The 737 MAX planes were grounded worldwide following the fatal crash, which came five months after a Lion Air crash in Indonesia that killed 189 people.
The Ethiopian Airlines and Lion Air crashes killed a total of 346 people.
Evidence shows that the Ethiopian Airlines incident was similar in nature to that of the Indonesia one. The investigation into the March crash is still underway.
According to US media reports, the FBI has joined the criminal investigation into the certification of the Boeing company's 737 MAX as new details emerge from two deadly crashes in five months.
The FBI will lend its considerable resources to an inquiry already being conducted by US Department of Transportation, the Seattle Times reported last week.
Criminal investigations into the US aviation industry, including federal oversight of airplane manufacturing and airline operations, are rare, the report said.
The federal investigation is being overseen by the US Justice Department's criminal division and carried out by the Transportation Department's Inspector General.
The crisis for the world's largest aviation company is growing as the European Union and Canada said they would seek their own guarantees over the safety of the 737 MAX.
Boeing has halted deliveries of its best-selling model, one intended to be the industry standard but now under a shadow.
There were more than 300 MAX airplanes in operation worldwide at the time of the Ethiopian crash, and nearly 5,000 more on order. The list price for each plane is $121 million.
Norwegian Airlines has already said it will seek compensation after grounding its MAX aircraft, and various companies are re-considering orders.