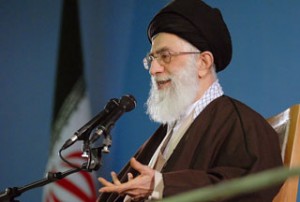 Leader of the Islamic Ummah and Opressed People Imam Seyyed Ali Khamenei has warned against efforts made by arrogant powers to paint an unrealistic picture of Islam.
"Arrogant powers seek to introduce Islam as either a stone-aged or a liberal faith without any effect," Imam Ali Khamenei said in a Tuesday meeting with the Iranian Minister of Culture and Islamic Guidance, the head of Iran's Islamic Culture Organization as well as Iran's cultural envoys to foreign countries.
"This is while the real Islam has great understanding about man, God, after life and the physical and spiritual needs of human beings," the Leader said.
Imam Ali Khamenei stressed that the most important responsibilities of Iran's cultural envoys were to portray a real and clear picture of the Islamic Republic, introduce Iran's ancient civilization as well as the developments of modern Iran, and the spread and development of the Persian language and literature.
The Leader said only in this way could the arrogant powers be prevented from reaching their "inhumane purpose" which is to "depict a tarnished image of the Islamic Republic" and "culturally isolate" Iran.