Imam Ali Khamenei
Leaders of Ummah
Middle East
Palestine
Leader Imam Ayatollah Khamenei: Zionist Regime Seeking Legitimacy Through Sports Events
Leader of the Islamic Ummah and Opressed Imam Ayatollah Seyed Ali Khamenei denounced the Zionist regime's attempt to gain legitimacy with participation in the athletic games, urging the Iranian officials and athletes not to act passively in this regard.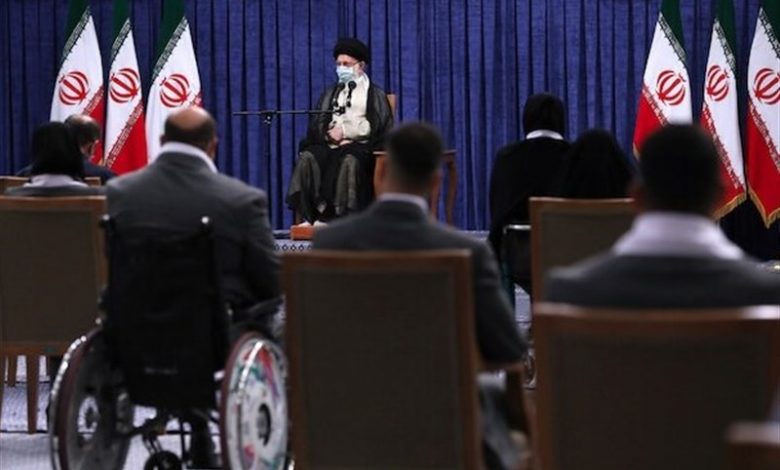 Ayatollah Khamenei on Saturday held a meeting with the Iranian Olympic and Paralympic medalists at the 2020 Tokyo Games.
In remarks in the gathering, held in accordance with the health protocols, Ayatollah Khamenei emphasized that a freethinking athlete cannot acknowledge the Zionist regime for the sake of a medal.
"The message of championship in athletic events, particularly at the international level, is that of ability, exuberance, perseverance and willpower. Champions teach resistance, hope and exuberance," the Leader stated.
"Some ways of becoming a champion are not healthy or valuable. There are many examples in the world: unfair refereeing, political scheming, bribery and doping. Another example is when athletes win a medal by betraying their country or themselves. These are in conflict with values," Ayatollah Khamenei added.
"The chivalrous behavior displayed by Iranian athletes is valuable, examples such as: performing prayers, embracing the defeated rival, using a kufiyah scarf as a symbol of resistance and ladies' hijab in competitions," the Leader noted, according to Khamenei.ir.
"Our female athletes have proven that hijab is not an obstacle that prevents brilliance. Similarly, women have previously proven this in the fields of politics, science and management," the Leader underlined.
"Our female athletes' hijab encouraged women from other Muslim countries, and later female athletes from over 10 other countries appeared in athletic events wearing hijab. This was not common previously, and you Iranian champions have prepared the ground for this," Ayatollah Khamenei said.
"The genocidal, illegal Zionist regime attempts to gain some legitimacy by appearing in international athletic competitions. The world's arrogant powers and their cohorts assist and support them in this," the Leader emphasized.