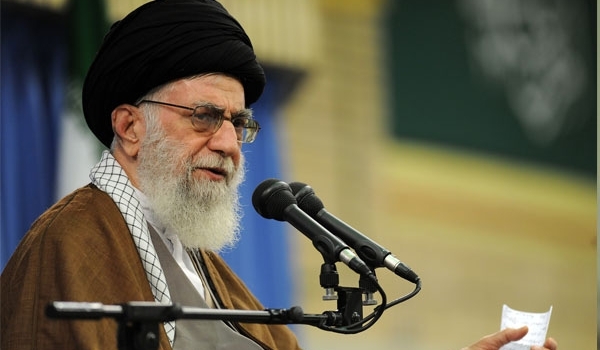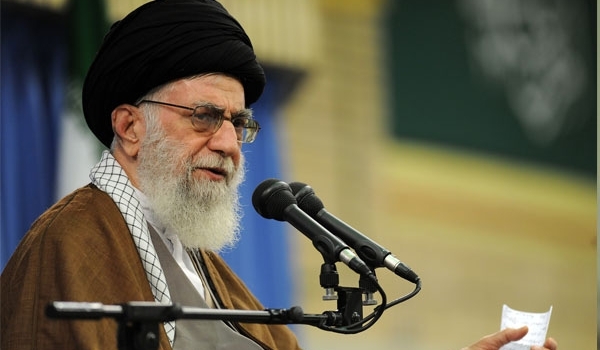 Supreme Leader of the Islamic Ummah and Oppressed Ayatollah Imam Seyed Ali Khamenei said Iran's decisions are not affected by elections results in the US, underlining that Washington's policies on Iran have always remained hostile irrespective of partisan affiliations.
"We don't have any judgment about the (US) election since the US is the same US and during the past 37 years that the two parties held the power, they didn't do any good to Iran and they permanently did evil things to the Iranian nation," Ayatollah Khamenei said in Tehran on Wednesday, addressing a large gathering of the Iranian people from the Central province of Isfahan.
"Unlike some of those in the world who have either been mourning or celebrating the results of the US elections, we are neither mourning nor celebrating, and the results make no difference to us. We have no worries and by the grace of God, we are ready to face any possible eventuality," he added.
Ayatollah Khamenei said that Iran should focus on resolving its present and future problems by enhancing national and intrinsic power.
Elsewhere, he referred to the issues raised by the US presidential candidates during their election campaigns, including poverty and other problems, and said, "In recent years, the US has spent the American people's money in dishonorable wars whose result has been the massacre of tens of thousands of civilians and destruction of infrastructures in Afghanistan, Iraq, Libya, Syria and Yemen."
His remarks came after Trump's demand to renegotiate the Vienna nuclear deal with Iran.
During his election campaign, Trump said he would tear up the nuclear deal with Iran. Yet, he later changed tone and said he would definitely embark on renegotiating the deal.
In response, Iranian Defense Minister Brigadier General Hossein Dehqan warned the US against any violation or delay in the implementation of the last year nuclear deal with Tehran, and said Washington will pay a heavy price if it embarks on such a grave mistake.
"Any delay, violation or return from the agreed path will entail high costs for them (the Americans) and they will be the main loser of any of their ignorant and proud measures," General Dehqan said, addressing the inauguration ceremony of the 8th International Aviation Exhibition on Kish Island in the Persian Gulf on Wednesday.
He stressed that while the US is attempting to convince the world states that sanctions against Iran are still in place but the structure of embargos has fallen apart.
General Dehqan, meantime, said that Iran has made huge progress in different fields despite sanctions, specially in the defense area.