Imam Ali Khamenei
Iran
Leader of Islamic Ummah and Oppressed People Imam Khamenei Remarks on the Environment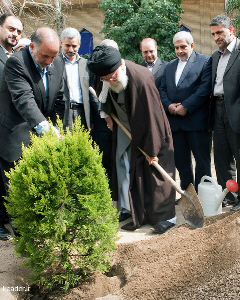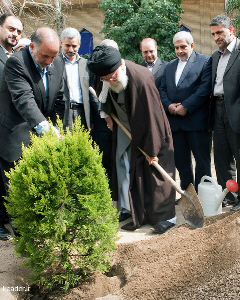 The Leader of Islamic Ummah and Oppressed People Imam Seyyed Ali Khamenei, has planted a sapling (a tree) on the occasion of 6th March, 15th Esfand on the Iranian calendar, which is the "Day of Planting Trees" in Iran.
According to IRIB World Service, the Leader thanked all those who are active in the environment sector, and those who are actively involved in the development parks and greenery, emphasizing that it is vital for all of us to appreciate "a green environment". The Leader also thanked all those who plant trees and are active in developing a green environment, particularly within an urban setting.
He urged all officials and all the people to be aware of the importance of greenery.
In further remarks, the Leader referred to the issue of dust and dust storms which in recent years have entered our country from neighbouring regions. Ayatollah Seyyed Ali Khamenei urged all branches of the government to act in a coordinated fashion to tackle the problem of dust storms.
The Leader also urged officials to do more to protect the environment.