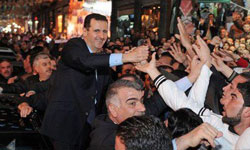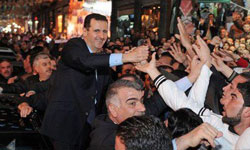 Leader of Lebanon's powerful Maronite Christians Suleiman Frangieh blasted certain foreign states for their attempts to prevent the candidacy of President Bashar al-Assad in the 2014 election, and said the Syrian people are still siding with Assad and support him.
"The Syrian people are beside Bashar Assad like the past and support him; therefore certain foreign sides are trying hinder Assad's candidacy in the 2014 presidential election," Frangieh said in a meeting with Iranian Ambassador to Lebanon Qazanfar Roknabadi in Beirut on Sunday.
Roknabadi, for his part, stressed the necessity for the maintenance of stability in Lebanon and adopting the necessary measures to prevent the spread of the Syrian crisis to Lebanon, and said the Syrian issue should be settled through political means.
He also elaborated on Iran's six-point plan proposed to settle the crisis in Syria.
On December 16, the Iranian foreign ministry explained about the contents of Tehran's six-point plan for solving the problems in Syria, saying stop of violence and preventing foreign military intervention stand atop the proposal.
According to the foreign ministry, the first step is stopping violence and preventing military intervention of other countries in the Syrian issue.
The second step is preventing the shipment of weapons and holding national talks. Setting up a committee of the representatives of the Syrian people and government to reach an agreement on necessary reforms, taking steps to hold elections, reforming the Constitution as well as holding parliamentary and presidential elections are among the other moves demanded by the Iranian proposal.
Iranian officials have recently called on political leaders and religious figures in the region to support Tehran's 6-point plan to settle the crisis in Syria.
Tehran has recently doubled its efforts to settle the problems in Syria which has been experiencing unrests since March 2011 with organized attacks by well-armed gangs against Syrian security forces and border guards.
On November 18, Iran hosted the Syrian National Dialogue Conference, with the motto "No to Violence, Yes to Democracy".
Over 200 Syrian religious and political figures, leaders of tribes and parties as well as representatives and leaders of the opposition groups took part in the two-day meeting in Tehran.
A number of Syrian parliament members as well as senior political figures from Sudan, Algeria, Turkey, Egypt, Lebanon, Iraq, Brazil and Zimbabwe also took part in the meeting.