Iran
Leader of the Islamic Ummah Deplores Silence on Ongoing Crimes against Yemeni People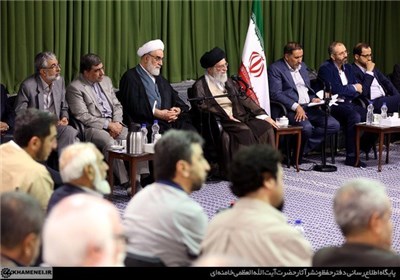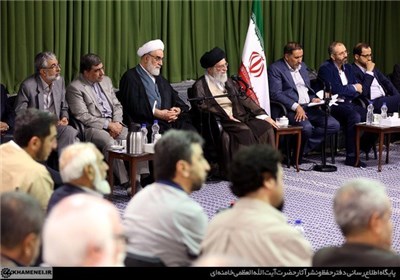 Supreme Leader of the Islamic Revolution Ayatollah Seyed Ali Khamenei lashed out at world media for their silence on crimes underway against Yemeni people.
Addressing a gathering of poets, professors of Persian poetry and literature and cultural figures on the occasion of the birth anniversary of the second Shiite Imam, Hassan ibn Ali (AS), here in Tehran on Wednesday evening, Ayatollah Khamenei described as "flagrant" the silence on crimes in Yemen.
Pointing to the 28th anniversary of 1987 chemical bombardment of Iran's northwestern city of Sardasht, which killed over 100 Iranian civilians and injured hundreds of others, the Leader said, "World media that are dominated by the US, Britain and Zionists and sometimes stage propaganda campaign for the life of an animal, show flagrant silence on such kind of crimes (chemical attacks) and similar crimes such as bombardment of Yemen these days and the attacks on Gaza and Lebanon in previous years."
During the eight-year Iraqi imposed war on the Islamic Republic in the 1980s, more than 1,000,000 Iranians were exposed to chemical agents of different types used by the Iraqi forces.
Leader's remarks on ongoing crimes in Yemen came as the United Nations has declared its highest-level humanitarian emergency in Yemen as Saudi Arabia continues its deadly airstrikes against the Arabian Peninsula country.
During a meeting of UN agencies, convened by UN humanitarian chief Stephen O'Brien, on Wednesday, all the participants agreed to announce a "Level 3" humanitarian emergency in Yemen for six months.
According to a civil coalition monitoring Saudi Arabia's crimes, 3043 people, including 722 children and 532 women, have been killed during over three months of Saudi-led military strikes on the Arab country.