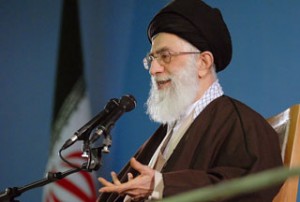 The Leader of Ummah offered on Sunday his condolences for the death of senior Iranian cleric Ayatollah Hossein-Ali Montazeri.
Imam Ali Khamenei described Ayatollah Montazeri as "a well-versed jurist and a prominent master", saying that "many disciples have benefited greatly from him."
"Ayatollah Montazeri spent a long period of his life serving the late founder of the Islamic Revolution and made many efforts and suffered much hardship for advancing this cause," the Leader said.
The Leader extended his condolences to the family of Ayatollah Montazeri and asked for God's mercy for the deceased.
The Iranian theologian and prolific writer passed away at the age of 87 on Sunday morning due to what his doctor described as either cardiac arrest or stroke.