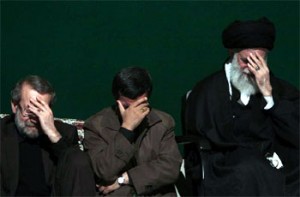 The Leader of Ummah has attended a mourning ceremony to commemorate the anniversary of the martyrdom of Prophet Muhammad's grandson, Imam Hussein (PBUH).
Imam Ali Khamenei took part in the ceremony on Saturday evening at the Imam Khomeini Hosseinieh, in downtown Tehran, on Tasu'a —: the ninth of Muharram and the day before the martyrdom of Imam Hussein (PBUH).
During the mourning ceremony, poems were recited and sermons delivered paying tribute to the third holiest figure of Shia Islam and his deceased companions who were slain in the battle of Karbala, in southern Iraq, in 680 CE after fighting bravely with the much larger army of the Umayyad Caliph, Yazid ibn Moaaviyeh, which some historians have said was 100,000 men strong.
Several prominent Iranian authorities among them President Mahmoud Ahmadinejad, Guardian Council Secretary Ayatollah Ahmad Jannati as well as Tehran's mayor Mohammad-Baqer Qalibaf also attended the Saturday event.