Imam Ali Khamenei
Economy
Iran
Leaders of Ummah
Middle East
Leader urges government to capitalize on local production
Leading Iranian business owners, producers and industrialists attended a special meeting with Leader of the Islamic Ummah and Oppressed Imam Ayatollah Seyyed Ali Khamenei at his official residence.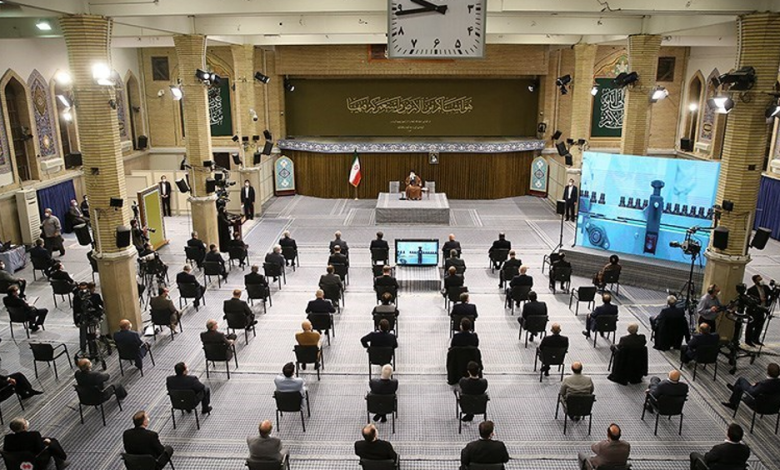 The meeting was aimed at allowing business people and industrialists to share their concerns and talk about key challenges they face in the production process, and that, in a face-to-face meeting with the Leader. Ayatollah Khamenei hailed the efforts of economic operators in keeping the economy and the production sector afloat amid the toughest sanctions imposed by the US on Iran.
He said thanks to those efforts, the US's so-called maximum pressure campaign against Iran has turned into a humiliating defeat for Washington. The leader then called the attention of officials to what the entrepreneurs and industrialists had to say. Ayatollah Khamenei said officials should listen to them.
He said officials should tap into domestic potential and support producers and other economic operators to ensure greater success. The leader stressed the need for trust in young minds, saying they shone wherever they were called to action, ranging from the production of Covid vaccines to precision-strike missiles.
This was the second meeting of the Leader with manufacturers, industrialists and other economic operators in almost two years. Ayatollah Khamenei has on different occasions highlighted the need to boost domestic production as the key to the resistance economy.
To this end, he has taken symbolic and practical steps, including naming the current Persian calendar year "The year of production: support and the elimination of obstacles", calling on authorities to materialize this slogan. Boosting domestic production has been one of the main concerns and priorities of Iran's Leader.
Today, he once again urged officials to draw out a strategic roadmap for industries, and support manufacturers to help increase national production and speed up national development. Ayatollah Khamenei said obstacles to production should be removed to facilitate the move toward a resilient economy that can withstand domestic and foreign shocks.