Imam Ali Khamenei
Leaders of Ummah
Middle East
Palestine
Leader Urges Palestinians to Continue Military, Political Campaign against 'israel'
Leader of the Islamic Revolution Ayatollah Seyed Ali Khamenei expressed confidence about the final victory of the Palestinian nation over the Israeli regime, urging the continuation of a political and military campaign until the Zionist occupiers meet Palestine's demands.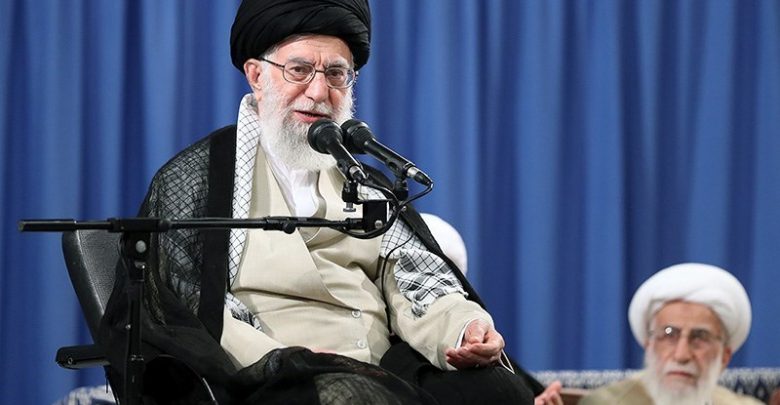 Speaking at a meeting with a gathering of high-ranking government officials, ambassadors of Muslims countries to Iran, and people in Tehran on Wednesday, Ayatollah Khamenei offered congratulations over Eid al-Fitr, which marks the end of the holy month of Ramadan, and said the message of this religious occasion is unity and solidarity among the Islamic countries and their return to the conception of "Muslim Ummah (community)".
The Leader further pointed to the enemy plots to create war and conflicts among Muslims and said, "Instead of fighting against each other, the Islamic countries should join the battle against the criminal presence of the occupying enemy in Palestine."
Ayatollah Khamenei described the Palestinian problem as the top issue of the Muslim world, criticizing some Islamic countries that are struggling to achieve goals of the US and the Zionist regime of Israel.
"From the very beginning, the Islamic Republic of Iran has insisted on defending the Palestinian people and stood against the global arrogance (the US) and will continue to do so," the Leader added.
The Leader further emphasized that the final victory belongs to the Palestinian people, adding, "The Islamic Republic's view (on Palestine) is not like those of some old Arab leaders who believed that the Jews should be thrown into the sea.
"However, we believe that the all-out military, political and cultural campaign of the Palestinian people should continue until the occupiers accede to the vote of the (Palestinian) nation," Ayatollah Khamenei stated.
In a speech earlier today, the Leader pointed to the US conspiracy called "the deal of the century" and said the betrayal of some Muslim countries, including Bahrain and Saudi Arabia has provided the grounds for "the evil plot".
Ayatollah Khamenei also denounced the Manama regime for agreeing to host a conference later this month, where Washington plans to unveil parts of the deal.
The deal of the century will never materialize, the Leader noted, expressing gratitude to some Arab countries and the Palestinian groups that have voided their opposition to the deal.
Last month, the White House announced that Bahrain will host a workshop on June 25-26 in the capital Manama.
All Palestinian groups, along with the United Nations and several other countries, have boycotted the event.
Iranian people took part in countrywide demonstrations on Friday to mark the International Quds Day, reaffirm support for Palestine, and condemn the Israeli crimes against Palestinians.
This year's rallies were held under the slogan "En Route for Quds" in the Arab countries.
Each year, the International Quds Day is celebrated on the last Friday of the Islamic holy month of Ramadan.
The event's raison d'être is renewing support for the Palestinians and denunciation of Israel.