Imam Ali Khamenei
Iran
Leaders of Ummah
Leader Urges Serious Police Action against Smuggling, Cyber Insecurity in Iran
Leader of the Islamic Revolution Ayatollah Seyed Ali Khamenei called on the Iranian Law Enforcement Force to enhance its capabilities and take serious action against the smugglers and those upsetting security of the virtual space.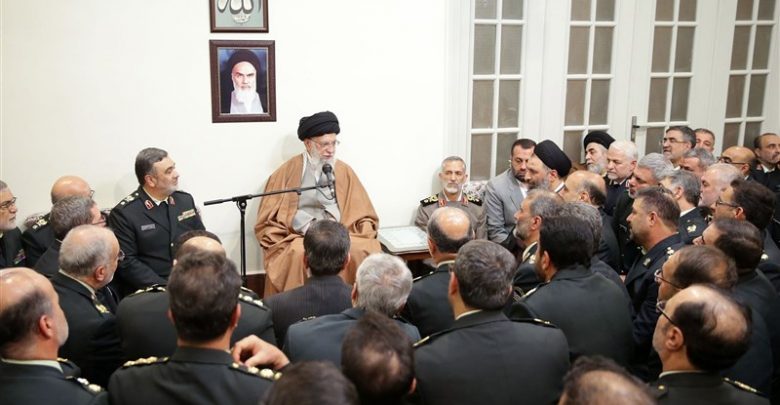 In a meeting with high-ranking police commanders and officials in Tehran on Sunday, Leader of Islamic Ummah and Oppressed Imam Ayatollah Khamenei praised the Iranian Police for making great advances in recent years and called for unwavering efforts to boost the capabilities.
Hailing the police forces for their service for people in the disaster-hit areas of Iran after recent floods, the Leader explained that the Police's efforts to ensure security paves the way for economic dynamism in the country.
Stressing the need for resolute action against smugglers, Ayatollah Khamenei added, "One of the obstacles to the materialization of production boom is 'smuggling', which has become two-way (trend) today, and in addition to the contraband imports, a series of commodities that people and the agricultural sector need are being smuggled out of the country."
The Leader further highlighted the necessity for the efforts to ensure security of the cyber space, adding, "The virtual space has greatly pervaded the lives of people today, and apart from the advantages and possibilities, it entails major threats as well."
Ayatollah Khamenei further reminded the Police of its major responsibility to take action against the trade of weapons, noting, "The sale and purchase of weapons is free in some countries, like the US, because of the interests of the rifle-manufacturing companies mafia, which causes problems for its people, but in our country, where no such problem exists and the trade of weapons is prohibited, it must be prevented."
Stressing the necessity for a ban on the arms trade in the virtual space, the Leader urged the Police to address such cases, noting that an assailant that shot dead a cleric in Iran's western city of Hamedan on Saturday had posted his photos with four different rifles on his Instagram page before the homicide.
In 2016, the Leader had called on the Police to constantly boost capabilities and match them to rapid advances in science and technology.
Imam Khamenei had also hailed police forces as a pillar of security in the country, stressing that security is the origin of personal peace of mind as well as public and social calmness.
Iran's Police Force is in charge of ensuring security in the cities, on the roads and along the borders.
It has a broad range of responsibilities and includes several divisions, including cyber police, border guard police, traffic police, criminal investigation department, and a bureau for compulsory military service affairs.