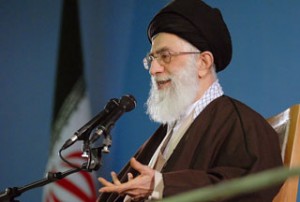 Leader of the Islamic Ummah and Opressed People Imam Seyyed Ali Khamenei says the US is enraged by the Iranian nation's firm stand against the West.
The Leader said the remarks by the US president and other officials about Iran were another indication that the US had been disappointed by the Iranian nation.
"Outdated and absurd remarks, that Iran is building nuclear weapons, indicate that the enemies of the nation are continuing their propaganda [against Iran] in abject utter weakness."
The Leader said the Iranian nation's large turnout for the celebration of the victory of the Islamic Revolution rallies once again "frustrated and enraged the hegemonic powers, in particular, the United States."
Imam Ali Khamenei added that the Iranian nation's resistance to the West set an example for the generation to come of how to confront pressure by reliance on its own capability and a divine source.
The Leader said the Iranian nation will not be affected by allegations against its nuclear work, as it has asserted that Iran considers the proliferation of nuclear weapons "forbidden" and in direct opposition to Islamic belief.
Imam Ali Khamenei said that contrary to the West's major campaign against Iran, we continue to "awaken the spirit of dignity in the whole Islamic Ummah as our nation's efforts have led to the Islamic vigilance" among other Muslim nations.
The Leader also rejected outright the allegations that Iran was a threat to its neighbors, in particular the Persian Gulf littoral states.
"Our neighbors know well that these [allegations] are lies, which the US and Zionist regime are using to create division and divert the attention of the Islamic Ummah from their main enemies that are the US and the Zionist regime," the Leader said in a ceremony to launch Iran's advanced domestically-built destroyer, the Jamaran on Friday.
The Leader called on regional countries to join hands in restoring security to the region to foil the enemies' plots.