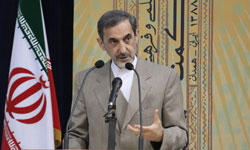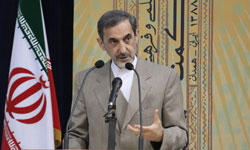 A senior aide to the Leader of Islamic Ummah and Oppressed People Imam Sayyed Ali Khamenei called on the Group 5+1 (the five permanent UN Security Council members plus Germany) to recognize Iran's nuclear rights.
"The Islamic Republic of Iran should be allowed to use peaceful nuclear energy and such a right should be recognized by negotiators of the G5+1," Senior Advisor of the  Supreme Leader for International Affairs Ali Akbar Velayati said.
He added that Iran and the six major world powers will proceed with their talks to eventually achieve positive and constructive results.
Velayati further noted that the Islamic Republic has a "principled and logical" stance, which was announced during the talks with G5+1.
Earlier this week, Iranian Foreign Ministry Spokesman Ramin Mehman-Parast expressed the hope that talks between Iran and the Group 5+1 would result in the materialization of Iran's nuclear rights and removal of alleged concerns about Iran's nuclear program.
Answering a question about Tuesday's meeting between Iran's Supreme National Security Council (SNSC) Undersecretary Ali Baqeri and Helga Schmid, the deputy to the EU foreign policy chief, in Istanbul, Mehman-Parast said that talks are aimed at brining the two sides' views closer and reaching an agreement acceptable to both sides.
"If these talks reach a certain result in a way that both concerns of the other side are removed and our rights are fully recognized in a (specific) period of time, that would be the best solution to the problem, and we hope that negotiations will be pursued in this way," Mehman-Parast told reporters on Tuesday.
Iran and the G5+1 agreed to hold the expert-level talks during their negotiations in the Russian capital, Moscow, in June.
The Moscow meetings came after three sessions of plenary talks in Baghdad in May and an earlier round of negotiations in Istanbul in mid-April.
The two sides had, prior to the Istanbul talks, held two rounds of negotiations, one in Geneva, Switzerland, in December 2010, and another in Istanbul in January 2011.