Iran
Leader's directives on JCPOA to be fully observed: Rouhani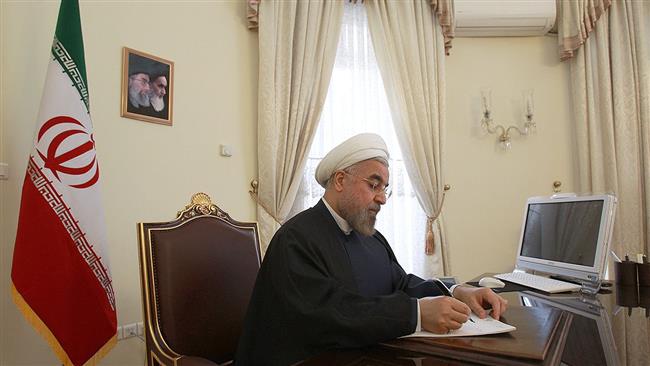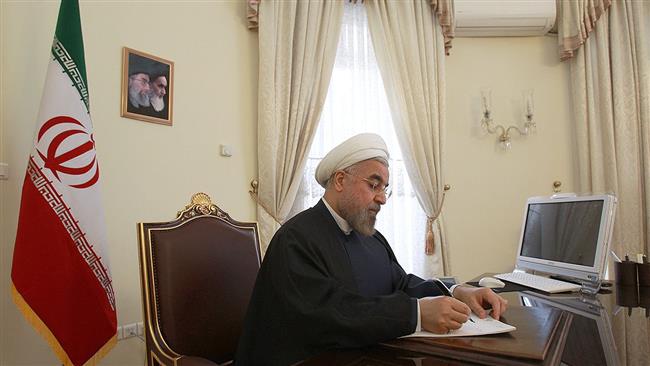 Iranian President Hassan Rouhani says directives issued by Leader of the Islamic Revolution Ayatollah Seyyed Ali Khamenei on the implementation of the agreement reached by Iran and the P5+1 group over Tehran's nuclear program will be fully observed.
In a letter addressed to the Leader on Thursday, Rouhani expressed gratitude to Ayatollah Khamenei for his guidelines and support regarding the agreement, and reiterated that the Leader's instructions will be fully taken into account.
"The administration of the Islamic Republic of Iran, by observing Your Excellency's considerations and requirements as well as the enactments of the Supreme National Security Council and the Islamic Consultative Assembly (Parliament), will move to implement the JCPOA to the letter and with goodwill," read the President's letter.
On July 14, Iran and the P5+1 group of countries – the United States, Britain, France, China and Russia plus Germany – finalized the text of an agreement on Tehran's nuclear program dubbed the Joint Comprehensive Plan of Action (JCPOA) in the Austrian capital, Vienna.
In a letter to President Rouhani on Wednesday, the Leader enumerated certain points on the implementation of the JCPOA and issued directives to be heeded in that regard.
President Rouhani's letter further reads that the administration will fully monitor the other side's compliance with its commitments under the JCPOA and decisions will be made accordingly for an appropriate response.
The letter also noted that the Leader's "seal of approval on the outcome of the efforts made by the administration and others involved in the [nuclear] talks" will usher in a new era in Iran's move forward.
Thanks to the Iranian nation's resistance and efforts by the Iranian nuclear negotiating team, read the letter, the six world powers came to realize that threats and sanctions are nonstarters; they dropped their policies which called for the dismantling of Iran's nuclear activities and accepted to hold talks on an equal footing based on mutual respect and recognition of the Iranian nation's rights.
The country's nuclear program, including uranium enrichment work and possession of a heavy water reactor, has been recognized by the whole world as a peaceful program on an industrial scale, read the letter.