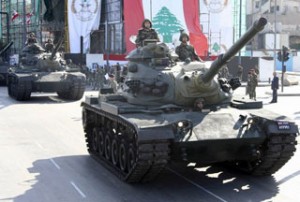 The Lebanese army says it has opened fire on two Israeli warplanes that were violating the country's airspace at medium altitude.
"The army's anti-aircraft guns fired at two Israeli warplanes overflying Hasbaya in southeastern Lebanon," the Lebanese army said in statement late Sunday.
Israel's regular overflights across southern Lebanon are in violation of the UN Security Council Resolution 1701, the statement added. The resolution calls on Tel Aviv to stop invading Lebanon's sovereignty by land, sea and air.
Resolution 1701 was unanimously adopted by the UN Security Council in August 2006 that brought to end Israel's 33-day war on Lebanon, during which Israeli forces failed to achieve any of their objectives.
The Sunday violation occurred amid Israel's escalating war threats in the region. The army says Israeli warplanes have entered Lebanese airspace on an almost-daily basis during the past months.