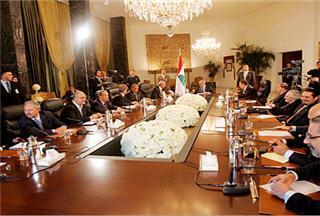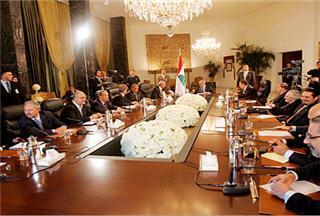 The National Defense Strategy was put on agenda of the discussions of the Lebanon's National Dialogue Committee which kicked off on Thursday at Sheikh Halim Hall of Summer Presidential Palace of Beiteddine.
President Michel Sleiman is presiding this 11th session in presence of political leader but in the absence of Reform and Change bloc leader, MP General Michel Aoun, and National Defense Minister, Elias Murr, who lately underwent a surgical operation, National News Agency reported.
He underlined the importance of arming and gearing up the Lebanese Army, as it is the backbone of the National Defense Strategy.
At the start of the session, Suleiman referred to the deadly clashes between Lebanese and Israeli troops in the town of Adeisseh.
He later summed up developments which took place since the 10th dialogue session, emphasizing on Baabda tripartite summit (between Syrian President, Saudi King and Lebanese President), Adayseh clash between the Lebanese and Israeli armies, and the progress of the peace process in the Middle East Region.
The session which kicked off at 11:00 am was preceded by a meeting between Suleiman and Speaker Nabih Berri.
The next round of national dialogue was set for October 19 after around three hours of discussions.
In a statement issued after the meeting, the participants stressed the importance of consolidating political and security stability and committing to decisions agreed during previous sessions, including those linked to Palestinian arms outside refugee.